Sexual Assault and Trial.
A collaborator of Orazio, Agostino Tassi, visited Orazio's workshop. Employed to teach Artemisia perspective, when they were alone he raped her. At the time an unmarried woman who was not a virgin was deemed unacceptable, this left the seventeen-year-old Artemisia with few options. She began a sexual relationship with Tassi hoping that an offer of marriage would follow therefore keeping her reputation intact.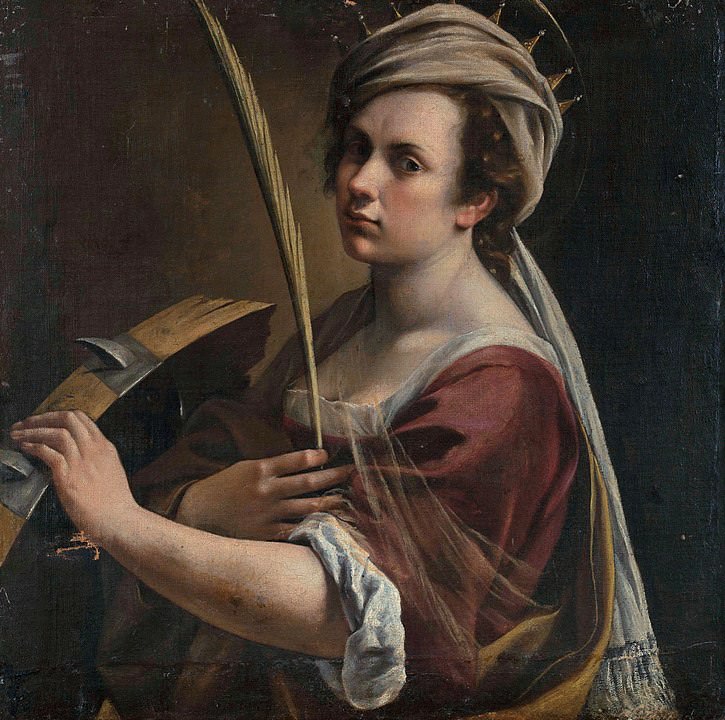 Self-Portrait as Saint Catherine of Alexandria, c.1616, National Gallery, London. (w)
When Tassi refused to marry Artemisia her father Orazio reported the crime to the authorities. What followed was a damming insight into of the dreadful treatment of women at the time.
The trial lasted seven months during which Artemisia was subjected to a public gynaecological examination to prove that she was no longer a virgin. A crime was only deemed to have been committed if Tassi had taken her virginity, had she not been a virgin at the time of the assault no criminal proceedings would have followed.
To verify her evidence the unfortunate Artemisia was tortured by the application of thumbscrews eventually she screamed out "it is true it is true" and her story was believed. Tassi's punishment was to be exiled from Rome, a punishment that was never enforced.
The trial was well documented and it seems that Gentileschi was forced to give a graphic account of the rape, the ordeal made her something of a celebrity in Rome.
Artemisia Gentileschi in Florence.
After the scandal of the trial, Orazio moved quickly to find a suitable husband for Artemisia. Barely a month after the trial she married Pierantonio Stiattesi. In 1612 the couple moved to Florence. Artemisia enjoyed artistic success in Florence becoming a court painter to the powerful Cosimo II de' Medici, Grand Duke of Tuscany she was also accepted into the Academy of the Arts and Drawing.
After the confinement of her father's house, she was now exposed to a wider range of artistic influences. During the eight years that she spent in Florence, she gave birth to five children sadly only one daughter Prudentia survived until adulthood. During this Florentine period, Artemisia completed one of her most famous and accomplished works, Judith Slaying Holofernes. Artemisia also began an affair with a wealthy Florentine nobleman Francesco Maria Maringhi. It would seem that her husband knew about the affair but tolerated it because of Maringhi's financial assistance to the couple who had amassed a certain amount of debt. By 1620 the couple had relocated to Rome.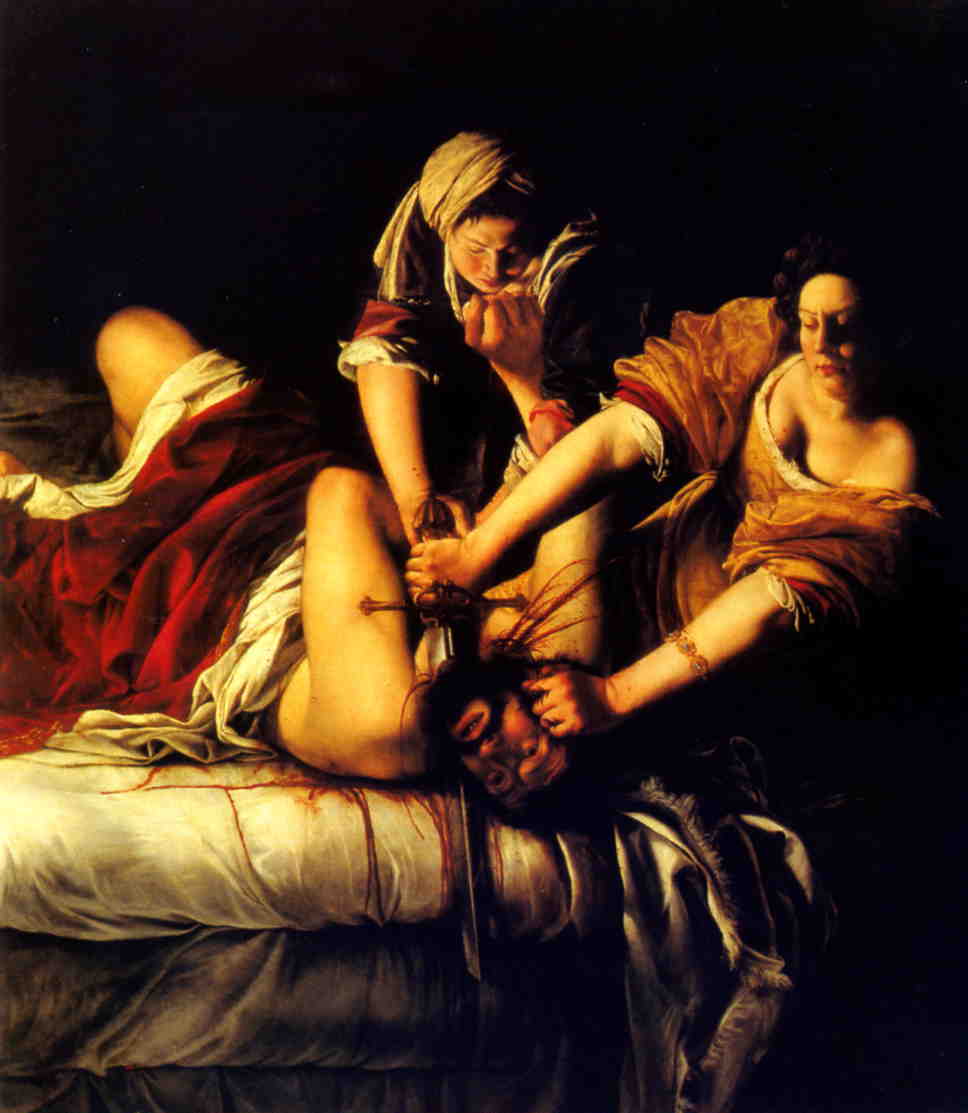 Judith Slaying Holofernes, 1514/20, Uffizi Gallery, Florence. (s)
Rome, Venice, Naples and England.
Gentileschi's period in Rome was very successful, she was able to meet and collaborate with other artists. Her unusual status as a female artist coupled with her incredible artistic talent attracted many of the important patrons that resided in the city. As a member of the Academy, Artemisia was now able to buy paints and equipment without the authority of her husband and by 1623 he does not feature in any surviving documents.
By 1627 Artemisia had moved to Venice where she was to remain for three years. After spending time in Naples, where her work was already known and on the invitation of Charles I of England she joined her father Orazio in London. It was here that she painted her famous, Self-Portrait as the Allegory of Painting. Orazio who had been given a commission to decorate the ceiling of the house of Queen Henrietta Maria in Greenwich, titled An Allegory of Peace and the Arts, died in London in 1639. By 1642 Artemisia had left London, she settled in Naples where she set up her studio. The date of her death is not known or documented but 1654 or later is a possibility.

Personal Opinion.
Because of the notoriety surrounding the rape and subsequent trial of Artemisia Gentileschi it has been too easy to forget about her wonderful talent as an artist. Had Artemisia been a man she would have been regarded as one of the greatest masters of her age. Until recently the few successful renaissance women painters have been largely overlooked or merely given the briefest of mentions thankfully this has now changed. Even so, Artemisia's battle to succeed despite the traumas that she endured marks her as a truly outstanding historical figure. It is pleasing to see her receiving the praise that she deserves despite her battles with the conventions of her time.
Above all her exceptional paintings have left us with a body of work which is now enjoyed worldwide, I have the deepest admiration for this brave, heroic woman.