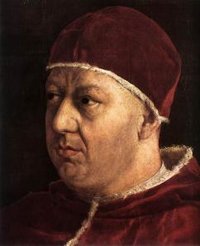 Judith and Holofernes
 Donatello, 1460 Bronze, height 236 cm Florence, Palazzo Vecchio, Commissioned by Cosimo de' Medici. (s)

Giovanni de' Medici, Pope Leo X. (w)
Giovanni de' Medici (1475–1523), Pope Leo X. One of the three Medici's to be elected to the papal office, Leo is the Pope who supported Raphael's work in the Vatican and St Peters. 

Giulio de' Medici (1478–1534), Pope Clement VII, was the nephew of Lorenzo the Magnificent and the cousin of Leo X. His own father (Giuliano de' Medici) was assassinated in Florence and, as Giulio was born a month after the assassination, he was educated by Lorenzo and became a cardinal on 23 September 1513.
Giulio was elected Pope on November 19 1523, and it is he who commissioned Michelangelo's Last Judgement on the altar wall of the Sistine Chapel.
Cosimo I the Great (1519–1574), The Grand Duke of Tuscany. Cosimo was a supporter of Vasari who created the Uffizi, one of the worlds greatest art galleries and founded the Academy of Design in 1562.
Other notable members of the family (although not associated with the Renaissance) are:-

Catherine de' Medici (1519–1589),
Queen of France.


 Alessandro Ottaviano de' Medici (1535–1605),

Pope Leo XI, and...


 Marie de' Medici (1575–1642),

Queen and Regent of France.