The Medici.
Artistic patrons of the Renaissance.
The Medici family was one of the wealthiest in Europe, and the Medici bank was the most respected financial institution of the time. The family also acquired great political power in Florence, the whole of Italy, and in France.

Lorenzo the Magnificent, bust by Verrocchio. (w)
The great works of art produced in the Renaissance required equally great people of foresight and wealth to commission and pay for them. As patrons of the arts go there are no more influential families than the Medici of Florence.
Giovanni di Bicci de' Medici, (1360–1429) was basically a banker but was also the first of the Medici family to patronise the arts. He aided Masaccio and Brunelleschi by commissioning some of their work.
Artists of the time produced works only when they had received advance payments for them. Giovanni's wealth ensured that major commissions were completed and paid for. 
Giovanni's son, Cosimo the Elder, (1389–1464) was a major political figure in Florence. He commissioned work and supported artists such as Donatello and Fra Angelico. 
Lorenzo the Magnificent (1449–1492) held the reins of power in Florence during the golden age of the Renaissance. He was involved in gaining commissions for artists such as Sandro Botticelli, Domenico Ghirlandaio, Andrea del Verrocchio, Leonardo da Vinci and Michelangelo Buonarroti.
Michelangelo lived with Lorenzo and his family for many years and produced work for several members of the Medici.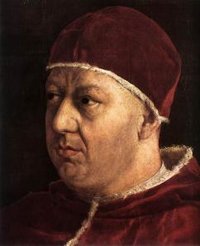 Giovanni de' Medici, Pope Leo X. (w)
Giovanni de' Medici (1475–1523), Pope Leo X. One of the three Medici's to be elected to the papal office, Leo is the Pope who supported Raphael's work in the Vatican and St Peters. 

Giulio de' Medici (1478–1534), Pope Clement VII, was the nephew of Lorenzo the Magnificent and the cousin of Leo X. His own father (Giuliano de' Medici) was assassinated in Florence and, as Giulio was born a month after the assassination, he was educated by Lorenzo and became a cardinal on 23 September 1513.
Giulio was elected Pope on November 19 1523, and it is he who commissioned Michelangelo's Last Judgement on the altar wall of the Sistine Chapel.
Cosimo I the Great (1519–1574), The Grand Duke of Tuscany. Cosimo was a supporter of Vasari who created the Uffizi, one of the worlds greatest art galleries and founded the Academy of Design in 1562.
Other notable members of the family (although not associated with the Renaissance) are:-

Catherine de' Medici (1519–1589), 
Queen of France.
Alessandro Ottaviano de' Medici (1535–1605),
 Pope Leo XI.
Marie de' Medici (1575–1642),
 Queen and Regent of France.
Renaissance History.
Home Page