The humanists rediscovered Greek and Latin texts and began to teach Latin literature. The poet, historian and philosopher, Francesco Petrarch (1304-1374) was one of the leading lights of the movement. It was this explosion of free thinking that eventually spread to the artists and architects of the fifteenth century. The independent cities of central and northern Italy with their politically and economically successful institutions such as banking, workshops and universities provided ideal conditions for the emergence of Humanism.
Beginning in Italy the new thinking eventually spread to the rest of Europe. The fourteenth century, or Trecento, artists shed the mosaics associated with the Byzantine period and took inspiration from classical Greek and Roman sculptors.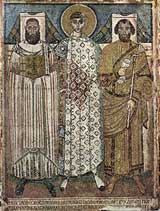 Typical Byzantine Mosaic 8th century.(w)
We tend to assume that every age must be greater than the one that it preceded, but this is not always the case. The Roman Empire was the centre of world civilisation until its demise in 476. Europe had entered the Middle Ages or Dark Ages lasting for a thousand years. The lessons of classical antiquity, Greek and Roman sculpture, architecture and literature did not surface again until the start of the Renaissance in Italy. The beginnings of the Italian Renaissance centred on Tuscany and on Florence in particular.

The Italians of the period considered themselves to be living in a golden age, superior to anything since the fall of the Roman empire a thousand years earlier, with painting, sculpture, music, poetry and architecture all awakening to a revival after sleeping for centuries.

Italian Renaissance Art began with Giotto (c. 1267-1337) who is considered to be the first painter to have broken with the tradition of Byzantine art at the end of the middle ages. Giotto made advances in representing the human body in a more realistic way, and his technique was the first to realise this change since the times of classical antiquity.