Piero della Francesca-The Story of the True Cross.

In 1452 he began his famous fresco cycle "The Story of the True Cross" for the Basilica of San Francesco in Arezzo. Based on stories from the Golden Legend, this is considered to be a Renaissance masterpiece. Based on The Lives of the Saints from the 13th-century book by Jacobo da Varagine this is Piero's most extensive work. 
The artist moved to Rome and painted frescos in the Santa Maria Maggiore but these works, and his Vatican City paintings have been destroyed.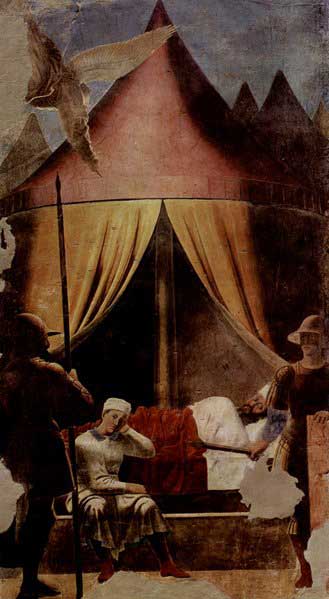 "The Dream of Constantine."
from "The Story of the True Cross." Detail of a fresco; the church of San Francesco, Arezzo. (w)
"The Resurrection".
Mural in fresco and tempera, 225 x 200 cm; Museo Civico, Sansepolcro, Italy.
The sleeping man, second from the left, is reputed to be a self-portrait of the artist. 

Two notable works from about 1460 are "The Flagellation" and "The Resurrection".
In 1472 he painted his famous double portrait of the Duke and Duchess of Urbino, and it is thought that the portrait of the Duchess may be in commemoration of her death, also in 1472.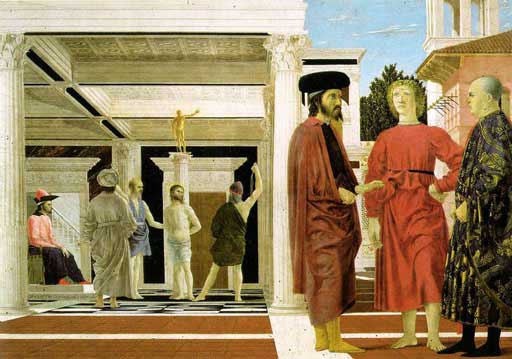 "The Flagellation" (w)1455–1460 Oil and tempera on panel 58.4 × 81.5 cm Galleria Nazionale delle Marche, Urbino

This is a strange work. The main theme of the painting, Christ being flogged at the pillar, takes place in the background of the picture. The figures in the foreground are chatting among themselves with no apparent interest in the torture of Christ. The work is admired for Piero's use of perspective, giving distance to the scene of flagellation and the figures in the foreground. 
Piero's last works are the Brera Altarpiece with "The Madonna and Child with angels and six saints", and his unfinished "Nativity", about 1475 or later.

During his life, Piero della Francesca was interested in the study of perspective and this is apparent in his work. He was also fascinated by mathematics and wrote two treatises, one on pure mathematics and one on perspective in painting.
Piero does not seem to have painted anything in the later years of his life and may have been blind, he died on October 12th 1492, the same day that Columbus discovered America.