Sandro Botticelli was born in Florence in about 1445/46 under the birth name of Alessandro di Mariano di Vanni Filipepi - quite a mouthful - it is understandable that over the course of time that his Christian name, Alessandro, became shortened to Sandro. The name Botticelli, meaning Little Barrel, was the nickname of his well rounded older brother. The name was so familiar that eventually it was conferred upon every family member. With the exception of his work in the Sistine Chapel in Rome and brief excursions to nearby towns Sandro was to spend the rest of his life in the region, living in the same district the famous Vespucci family were his near neighbours.
The merchant and explorer Amerigo Vespucci would eventually give his Christian name to the American continent. The well connected Vespucci family were among the artists most important patrons they also recommended Sandro to members of the powerful rulers of Florence, the Medici family. 
Details of Sandro's childhood and early life remain sparse. He grew up in Florence with his three brothers in the shadow of the monastery of Santa Maria Novella.
His father,  Mariano di Vanni was a tanner (the process of making leather) and lived with his wife Smeralda in the same district as the Vespucci family who became important patrons of the artists work.
It is thought that Botticelli had been trained as a goldsmith by his brother Antonio. Most renaissance painters started their apprenticeships at the age of twelve or fourteen.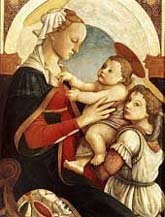 Sandro's career as a painter started at the relatively late age of about eighteen when he was apprenticed to Fra Filippo Lippi a well respected Florentine artist. In Lippi's workshop, he would learn the techniques of composition and fresco painting in addition to the grinding and mixing of various paints.   
By 1470 Botticelli had his own workshop and became a member of the St Lukes Guild. His "Adoration of the Magi", painted in 1475, includes several of the Medici family within the picture and emphasises the importance of the Medici as patrons of the arts in Renaissance Italy.
Virgin and Child with Angel c.1465-67 (w)
This is one of Botticelli's earliest works and clearly shows the influence of his master Fillipo Lippi.