Leonardo da Vinci was regarded as an astonishing virtuoso, even by his contemporaries of the time. Born in 1452 he was at work long before Michelangelo and Raphael who are considered to be the two other great masters of High Renaissance Art. Little is known about his early life, da Vinci simply means, of the town of Vinci, a town in the territory of Florence. He was actually born at Anchiano, a village close to Vinci, the son of Ser Piero and a peasant girl Caterina.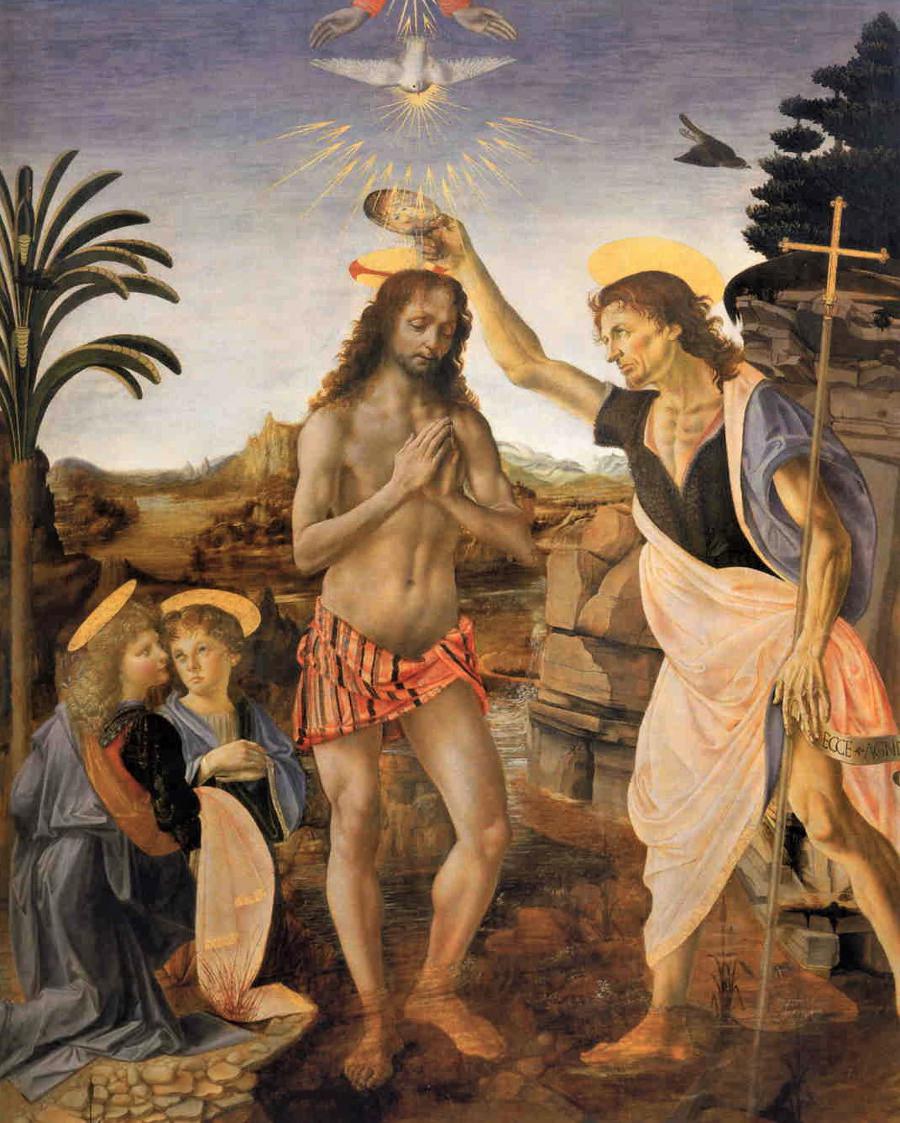 The Baptism of Christ, 1474-1475, Verrocchio and Leonardo da Vinci. (s)
The legend of Leonardo's physical beauty has been chronicled by the artist and art historian Giorgio Vasari, and since there is no description or portrait of him, we assume that Vasari's writings are based on fact. His schooling was basic and followed the traditional educational teachings of the time. This lack of higher education was apparent in his struggle to understand Latin.
Many classical documents were written in Latin, and it was with a source frustration that he had to resort to reading translations of scientific subjects rather than the original papers. Leonardo was a vegetarian who loved animals and by 1469 he was living with his father on the Piazza San Firenze in Florence.
His early apprenticeship began at the age of fourteen, in the workshop of painter and sculptor Andrea del Verrocchio. Verrocchio was one of the most renowned artists of his day and other painters with connections to his workshop include Sandro Botticelli and Domenico Ghirlandaio. However, Leonardo Da Vinci is the artist who is mostly associated with Verrocchio. In this workshop, the young Leonardo would have learned many skills and was introduced to metalwork, perspective, plaster casting, carpentry and mechanics, in addition to painting and drawing. 
The first account of Leonardo's genius is seen in the painting of The Baptism of Christ, the angel on the left of the picture is attributed to him. This painting, executed mainly be the hand of Verrocchio, is now in the Uffizi Gallery in Florence. It has been suggested that Verrocchio thought Leonardo's work to be so superior to his own, that he vowed never to paint again.