His early apprenticeship began at the age of fourteen, in the workshop of painter and sculptor Verrocchio. Verrocchio was one of the most renowned artists of his day and other painters with connections to his workshop include Botticelli and Ghirlandaio. However, Leonardo Da Vinci is the artist who is mostly associated with Verrocchio.
In this workshop, the young Leonardo would have learned many skills and was introduced to metalwork, perspective, plaster casting, carpentry and mechanics, in addition to painting and drawing.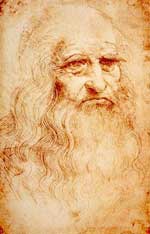 Leonardo da Vinci. Self Portrait?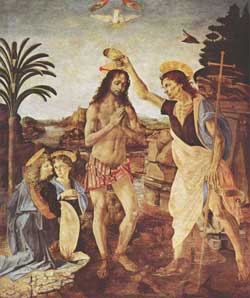 The Baptism of Christ, 1474-1475, Verrocchio and Leonardo da Vinci. (w)
The first account of Leonardo's genius is seen in the painting of The Baptism of Christ, the angel on the left of the picture is attributed to him. This painting, executed mainly be the hand of Verrocchio, is now in the Uffizi Gallery in Florence. It has been suggested that Verrocchio thought Leonardo's work to be so superior to his own, that he vowed never to paint again.

Leonardo became a Master in the Guild of Painters in 1472 and had his own workshop in Florence. His Annunciation was painted in 1473 and at the time he was still living in Verrocchio's house.
Other works from this early Florentine period include the Annunciation, the Portrait of Ginevra de'Benci, the Benois Madonna, and his unfinished picture of St Jerome.

In 1476 he, and three others were anonymously accused of sodomy with a teenage male prostitute. The crime of homosexual activity was widespread in Florence, and homosexuality was commonplace.  He was acquitted of the charge, re-charged and again acquitted, but there is no record of further work by him until 1478. The question of Leonardo's sexuality has been a matter of speculation, but it is generally thought that he was homosexual or bisexual. The fact remains that although we have documented details of his employers and movements, details of his private life are very sparse.

Da Vinci was commissioned to paint an altarpiece, The Adoration of the Magi, for a monastery just outside Florence. The work (about eight feet square) is unfinished, probably because Leonardo had left Florence for Milan.
Leonardo da Vinci in Milan.
The reasons for Leonardo's departure from Florence are unclear. Some say that it was his lack of recognition by Lorenzo de Medici, also the artist had been overlooked for the decoration of the walls of the Sistine Chapel. Pope Sixtus IV had summoned the finest artists in Tuscany to work on the Chapel. The Medici recommended Botticelli, Ghirlandaio and Signorelli but not Leonardo.
Among Leonard's notebooks is a letter to the Duke of Milan, claiming that he could do almost anything, from engineering for the military through to acting as architect, sculptor and painter. Two of Leonard da Vinci's most famous works were commissioned in Milan, The Virgin of the Rocks (two versions exist, one in the Louvre and one in the National Gallery in London) and, "The Last Supper".