The Baptistery in Florence, East Door.
In a continuation of his first commission, Ghiberti executed a second pair of doors between 1425 and 1452. Michelangelo famously described these as the "Gates of Paradise", they are divided into ten panels each containing a scene from the Old Testament.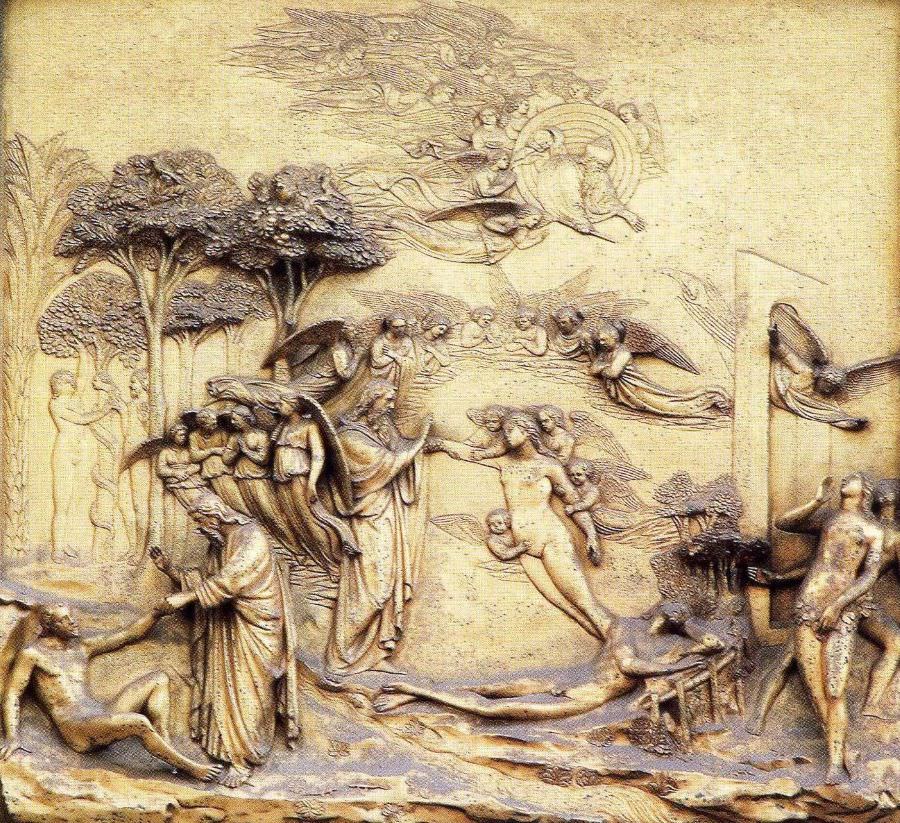 The story of Adam and Eve. (w)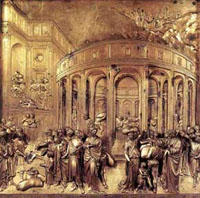 The story of Joseph. (w) Two details of the panels from the East Door
For the ten reliefs, Ghiberti has chosen to portray key figures from the Old Testament. From the top left the first panel displays scenes from Adam and Eve including their creation, their fall from grace, and subsequent expulsion from paradise.
On the left door panels, moving down from Adam and Eve, are Noah, Jacob and Esau, and Scenes of Moses and the Ten Commandments. Finally, the bottom relief depicts the story of David and Goliath.
On the right door facing the Adam and Eve panel are Cain and Able. Moving down is, Abraham and Isaac, Joseph sold into slavery, Joshua and the fall of Jericho, Solomon and the Queen of Sheba.
There are approximately forty scenes depicted in these ten panels. Considering that each of the panels measures only 79cm square – a little over 31in – they do capture the brilliance of Ghiberti's outstanding knowledge of metalwork. His skill in moulding his medium is breath-taking.  Completing the two sets of doors became Ghiberti's defining body of work. His innovative use of perspective in the metalwork of the reliefs was admired by patrons and fellow artists alike.
Personal Opinion:-
These are the second pair of gates, try to see them early, or late evening to avoid the crowds. They attract lots of attention and that's no surprise, they are magnificent.