Descent from the Cross, c.1436-7, Prado Madrid. (s)
The Descent from the Cross is Van der Weyden's most famous work. It is compressed into a frame that only just contains it. Also, the depth within the painting is very shallow and is contained by a wall in the background, this gives the figures greater prominence and highlights the extreme expressive sadness that the artist has woven into the work.
The figures interlock with the body of Christ mirroring that of the swooning Virgin adding a diagonal dimension to the composition. The anguish of Mary Magdalene is clear as she bows her head and wrings her hands in desperation, this is cleverly balanced by the bent body of John as he supports the Virgin at the opposite end of the painting. Above the figure of John is the weeping image of one of the other Marys who holds her hand to her face consumed by grief.
The artist is rightly famous for his renditions of human suffering expressed by the characters in his paintings. This work is a fine example of his style.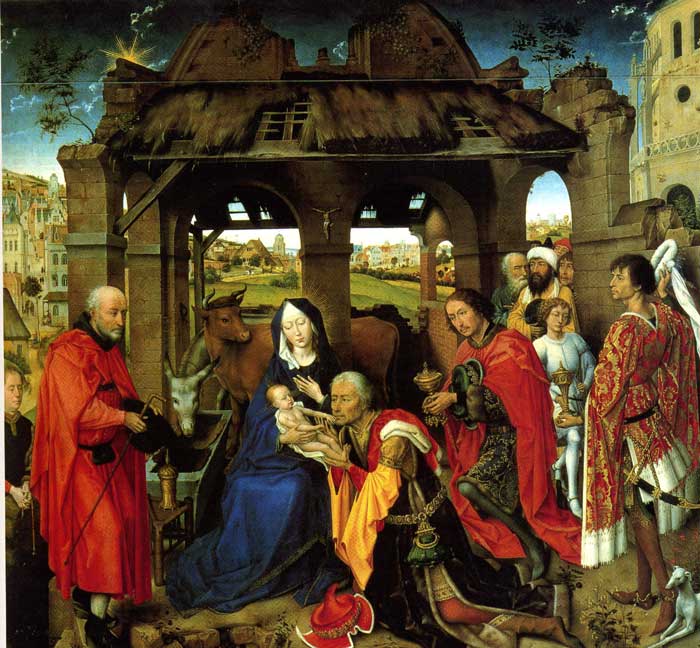 Columbia Triptych, c.1460, Alte Pinakothek, Munich. (s)
This is the centre panel of the Columbia Triptych which is an Adoration of the Magi. The kings are dressed in luxurious clothing with the Holy Family placed in front of the stable. The stable block displays a type of grand architecture with solid columns and arches. A picture of nobility and generosity permeates the scene which is completed by the sweeping landscape adding depth to the work.