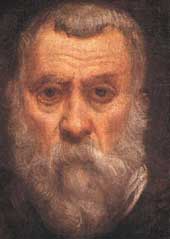 Self Portrait.
1588 Musée du Louvre (w)
The young Jacopo was trained for a short period by Titian and was a great admirer of Michelangelo, copying his drawings. It is even possible that he met Michelangelo on a visit to Rome in 1545. 
He tried to synthesise the drawings of Michelangelo and the colouring of his old master Titian.
Tintoretto had a style that was all his own and did not seek to paint simply in the 'manner' of the previous generation of artists, so yes, he was the last of the great painters of the Italian Renaissance.
In or around 1548 Tintoretto was commissioned to paint four pictures in the Scuola di S Marco, among these was the celebrated "Miracle of the Slave. The other works are, "The Finding the body of St Mark", "The Saint's body brought to Venice", and "Votary of the Saint delivered by invoking him from an Unclean Spirit".