Jan Van Eyck-The Ghent Altarpiece.

The Ghent Altarpiece, 1432. Oil on panel, Saint Bavo Cathedral, Ghent. (w)
This, almost medieval panel, was produced by Hubert Van Eyck (Jan's less well-known brother) and completed by Jan Van Eyck, a joint enterprise by the two artists. The Altarpiece contains a multitude of figures and scenes. In the fully opened state, these include Adam and Eve, the Virgin Mary, God the Father, John the Baptist, and the Adoration of the Mystic Lamb. Various Saints, Angels, and musicians are also featured.

Although Herbert is the lesser-known of the two brothers his work on the Ghent Altarpiece is probably far more extensive that is usually assumed. Herbert is known to have travelled to Italy while Jan was closer to the court of Burgundy in the Netherlands. Herbert's fame at the time of the Ghent Altarpiece can be explained by the inscription on the frame: Herbert van Eyck, "the greatest painter that ever lived."
The Polyptych has become the subject of much discussion about which of the two brothers' work was the more extensive. The scientific debate continues to rage.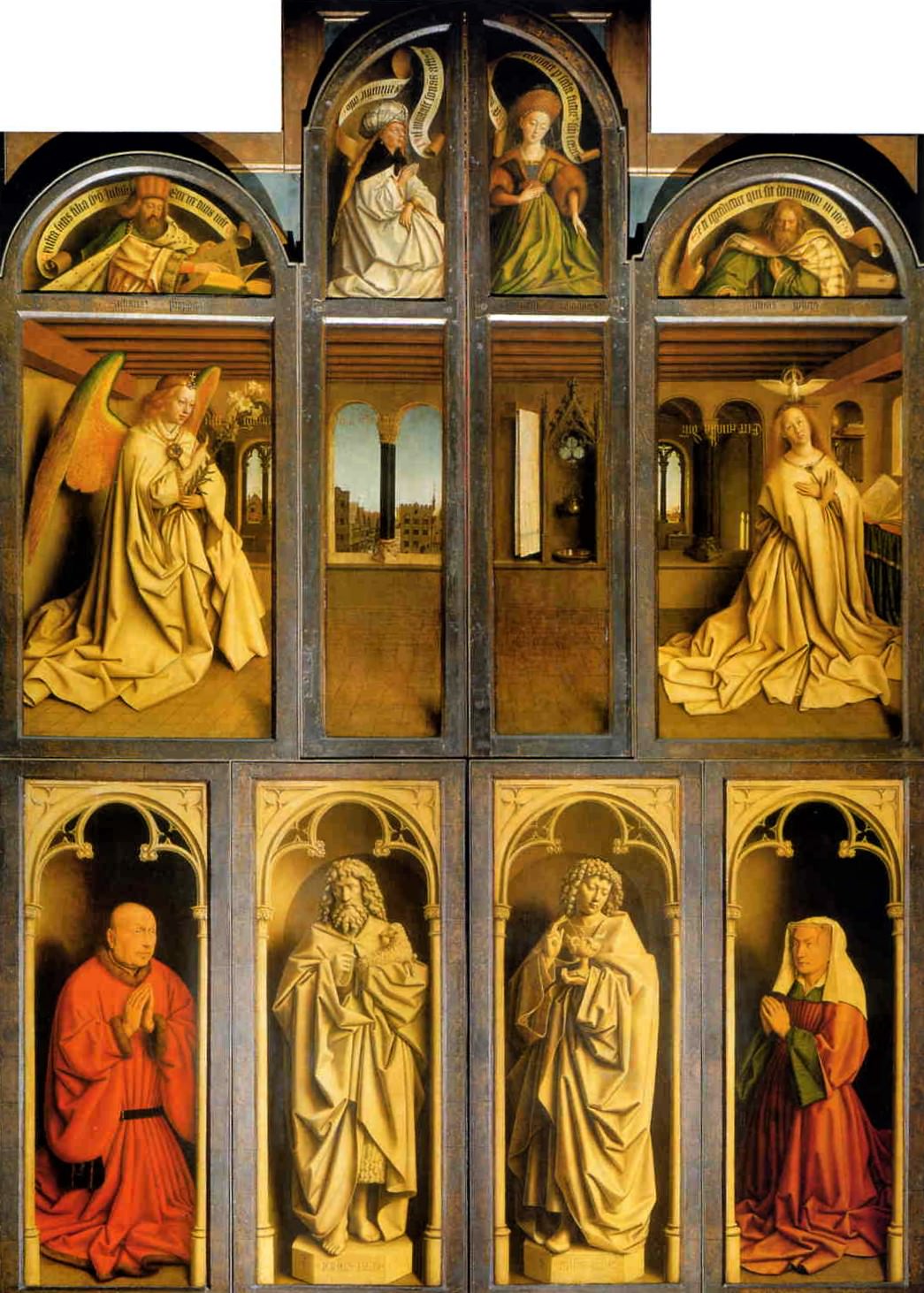 The Ghent Altarpiece (closed) (s)
The closed panel contains from the top, Prophets and Sibyls, the Annunciation, and portraits of the donor Jodocus Vijd with his wife Elisabeth Borluut. The panel would be in the closed state on weekdays but fully opened on Sundays and special holidays.
All of the known works of Jan Van Eyck are from the period within his service to Philip of Burgundy. He was a learned man who spoke Latin, he was also well versed in the classics. The artist remained as well respected member of the court of Burgundy until his death in 1441.