This is a crucifixion with a very unusual, high viewpoint. Among the teeming mass of figures, we have to search out the central image of Christ as he struggles under the weight of the Cross. The procession flows from left to right climbing up Mount Calvary towards the viewer in the foreground and on to the three Mary's with St John who are already mourning.
The perspective gives us, the viewer, the view that Christ would have had from the cross. So we are looking down on a scene that has already happened as the crucifixion parties move up the mountain, but also, simultaneously, on a large crowd that has lost interest in the main action, the crucifixion, as they turn away and return to their everyday lives.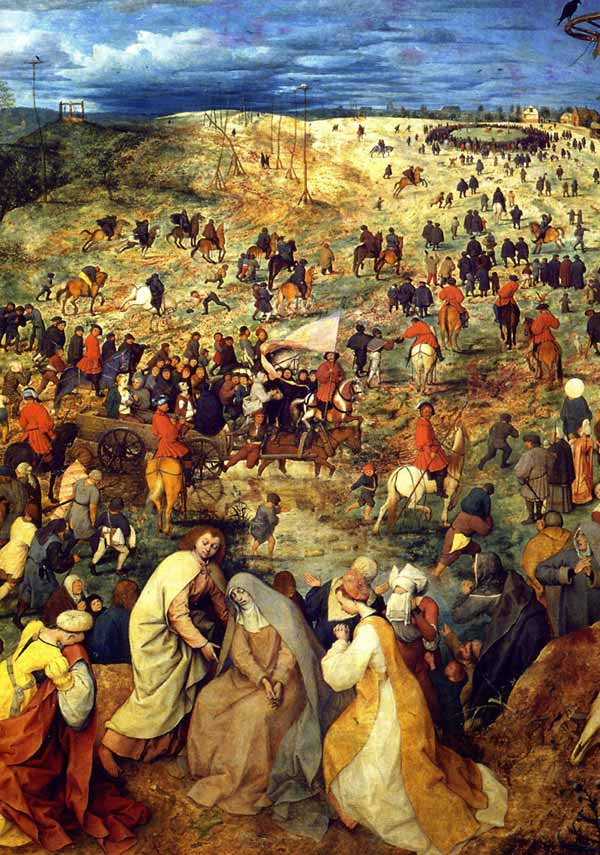 Pieter Bruegel The Road to Calvary, (detail of the mourners)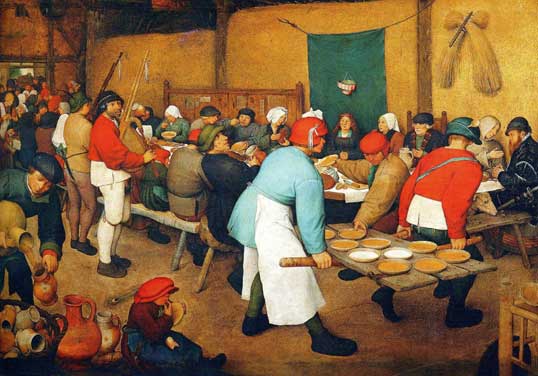 Peasant Wedding, 1568. Oil on Wood, 45x64in (114x164cm) Kunsthistorisches Museum Vienna. (s)
The Peasant Wedding is one of Pieter Bruegel's most familiar paintings. The images of the chunky waiters carrying the very large tray of food supported by wooden poles have been used in many an advertising campaign. How to capture everyday life was the artist's preoccupation here.
Bruegel would often dress in peasant clothing and mingle with the crowd at events such as weddings and parties. Going undercover has allowed the painter to capture real life such as the child in the foreground who uses his fingers to mop up any remaining food on his plate and the pitcher bearer who fills another tankard of ale.
These images, charming as they are, present a snapshot of sixteenth-century peasant life.