Albrecht Durer.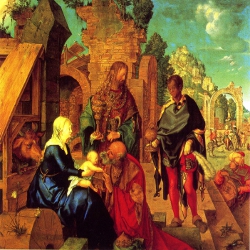 Albrecht Durer is the most celebrated artist of the Northern Renaissance. This multi-talented polymath excelled in painting, printmaking, engraving and mathematics in addition to his writings on perspective and other subjects.
Highly influenced by the art of the Italian Renaissance he was much admired in his lifetime winning the patronage of kings, emperors and princes who marvelled at the skill of the great artist from Nuremburg.
Explore the life and work of this influential Renaissance Masters extraordinary artistic achievements.