Salvator Mundi, Leonardo's lost painting.
The sale at Christie's of the Salvator Mundi has caused a media storm of claim and counterclaim. Many Leonardo experts are convinced that this painting's attribution to Leonardo is correct but many are not and with a painting that carries a price tag of $450m convincing the art world that the painting is genuine is important, to say the least. For example, the art scholar Martin Kemp is totally convinced that the painting is a genuine Leonardo while Dr Carmen Bambach another renowned Leonardo expert does not. If the painting was the work of one of Da Vinci's followers - as many speculate – the value of the painting would plummet at an alarming rate.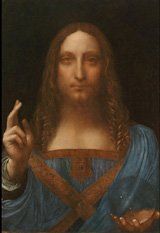 Where is the Salvator Mundi?
We know that the painting was purchased on behalf of Saudi Crown Prince Mohammed bin Salman and was to be displayed in the Louvre Abu Dhabi but it was pulled out as an exhibit days before it was to be unveiled. Given that it was intended to be the crowning glory of the museum and that no explanation has been given for the withdrawal, it is perhaps not surprising that theories and suspicions about the painting's whereabouts are rife in the media.
It has been reported that the painting is now on Mohammed bin Salman's yacht somewhere in the red sea. If this is true it is extraordinary that the worlds most expensive painting is bobbing about in a superyacht somewhere in the middle east.
Why is the painting being kept under wraps?
Considering that the Salvator Mundi was intended as one of - if not the main - exhibit for display in the Louvre, Abu Dabi it does seem odd it won't now be displayed at this prestigious museum. However, if the painting is re-classified as a work by one of Leonardo's followers and not by the master himself then the financial implications for the current owner are huge. The $450m price tag could become $1.5m, a massive loss and a source of deep embarrassment to the Saudi Royal Family.
Is this painting by Leonardo da Vinci, his workshop, or one of his followers perhaps with some touches by Leonardo himself?
We may never know the answer but with so much money at stake, it is certain that the debate will continue to rage and with the eye-watering price tag that the painting commands vested interests will be desperate for confirmation that the work is indeed a genuine Da Vinci. There are several versions of the Salvator Mundi, my article explores the provenance of two of these fascinating paintings.
Continue reading "Salvator Mundi, Leonardo's lost painting."