The artistic styles of Robert Campin, Van der Weyden and Jan van Eyck are often intertwined making the attribution of works to these artists difficult.
In particular distinguishing the paintings of Campin and Rogier still manages to create debate among some scholars to this day.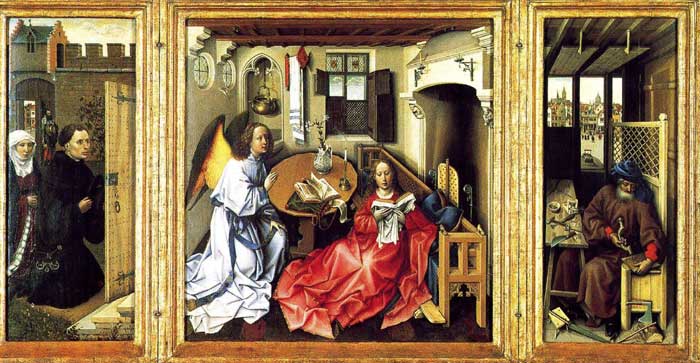 The Mérode Altarpiece. c. 1425-30. Metropolitan Museum of Art. New York. (s)
The Mérode Altarpiece is a triptych whose three panels show, the donor and his wife, left panel, The Annunciation, middle panel, and St Joseph on the right panel. The mysterious figure of the donor in the left wing wears the badge of the town of Malines but his identity is unknown. 
The central panel is a depiction of a middle-class room in which the Annunciation takes place. The settee which the Virgin leans against is typical of a style common in the Netherlands but the room is filled with the religious symbolism associated with this event. The lilies in the vase symbolise Mary's virginity. The scroll and the book represent the Old and the New Testaments. The room is lit by rays of sunlight at the top left of the painting, a miniature crucified Christ is carried on one of them and is about to enter the Virgin's body. The light is focused on Mary's dress forming a star shape, a possible foretelling of the star of Bethlehem.
The right panel portrays St Joseph working as a carpenter, he has made a mousetrap evoking an idea by St Augustine that Satan is trapped and defeated in a blood-bated snare within the Passion of Christ.