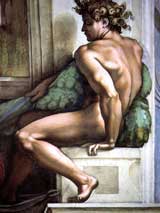 The Ignudi support the corners of the smaller scenes on the chapel ceiling. These four examples highlight Michelangelo's understanding ofthe human form. (s)

You have got to see this great bit of technology which gives you private access to the Chapel. It's great because in reality you would never be alone in the room, which is always very crowded, and of course in person you can't see Michelangelo's spectacular artwork close up as you can here.

This virtual tour was prepared by Villanova University at the request of the Vatican.
Just click and drag your arrow in the direction you wish to see.  In the lower left, click on the plus (+) to move closer,  or on the minus (-) to move away.
 http://www.vatican.va/various/cappelle/sistina_vr/index.html