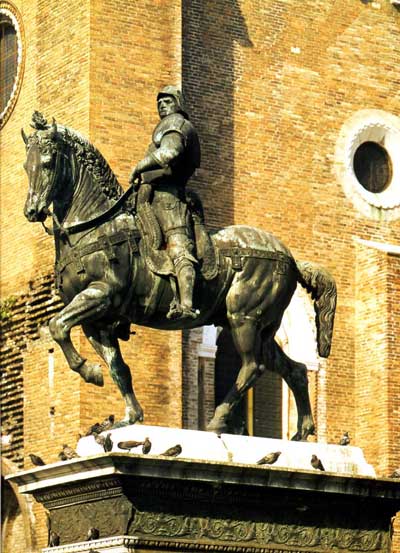 "Bartolommeo Colleoni", Verrocchio. Venice 1479 (s)
 This magnificent statue of Bartolommeo Colleoni, a Venetian general, illustrates the great standing held by Verrocchio. His fame was so great that the rival city of Venice commissioned him (a Florentine) to produce this equestrian statue.
I have seen this one in Venice, it's difficult to miss, and very, very impressive.

David, Andrea del Verrocchio. (w)
Verrocchio's bronze statue of David was made between 1473 and 1475. It was commissioned by the Medici family.
 Some claim that Verrocchio modelled the statue after a pupil in his workshop, the young Leonardo da Vinci. 

Verrocchio's David is interesting when compared to Donatello's version of the same subject.