Depictions of Michelangelo are always marked by his crooked nose. Even so, Michelangelo's genius was not dulled by this violent encounter, he produced a copy of an ancient marble sculpture, a Faun. This depiction of a half man, half goat so admired by Lorenzo is sadly lost but it marked the beginning of the artist's long and distinguished career as a sculptor. Two of his first sculptures are 'The Madonna of the Stairs', and 'The Battle of the Centaurs'.
Cupid, boy-God of Love and Bacchus, The God of Wine.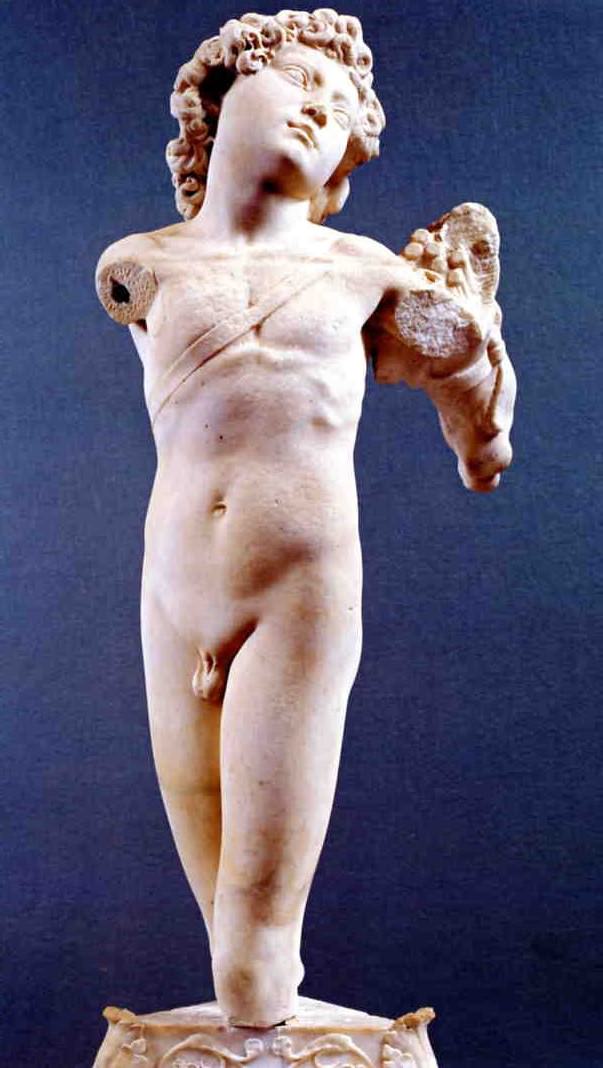 Cupid, boy-god-of love
Bacchus, God of Wine
Cupid, 1494-1496, Metropolitan Museum of Art, New York. (s)
Also known as the Manhattan Cupid, due to its location, very little is known about this early work by Michelangelo.
It Is thought to have been part of a collection of statues in the Villa Borghese Gardens in Rome.
This badly damaged work originally had arms and legs which have broken off and are now sadly lost. 
Bacchus, 1496-1497 Bargello Museum, Florence. (s)
The twenty-two-year-old artist has captured the unsteady, drunken ancient god of wine attempting to balance his wine cup despite his awkward, lurching posture.
He is accompanied by a satyr, the half-human half-goat satyr eats from a large bunch of grapes while clutching a tiger skin in his right hand. This statue was not well received by Michelangelo's patron, Cardinal Raffaele Riario, who found the work distasteful.