In 1481 he was summoned to Rome where, along with others, he worked on the frescos for the walls of the Sistine Chapel. His contribution to the Chapel included "The Charge to St Peter", "Moses leaving to Egypt" and "The Baptism of Christ".
Assisting him in these works were various painters from his formidable workshop making the attribution of some of the details difficult, a debate that continues to the present day.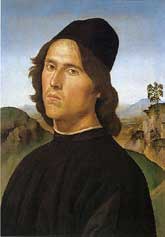 Lorenzo di Credi (w)
The Charge to St Peter is on the North wall of the chapel. Jesus is shown delivering the gold and silver keys to the kingdom of heaven. The keys symbolise the power to forgive sinners, therefore, allowing them to repent and enter heaven. St Peter is shown kneeling as he receives the keys from Jesus who is surrounded by the other Apostles. Perugino has given the painting depth by introducing the large, foreshortened rectangular paving leading to a central building in the background. The octagonal building also features in Perugino's "The Marriage of the Virgin". (shown below)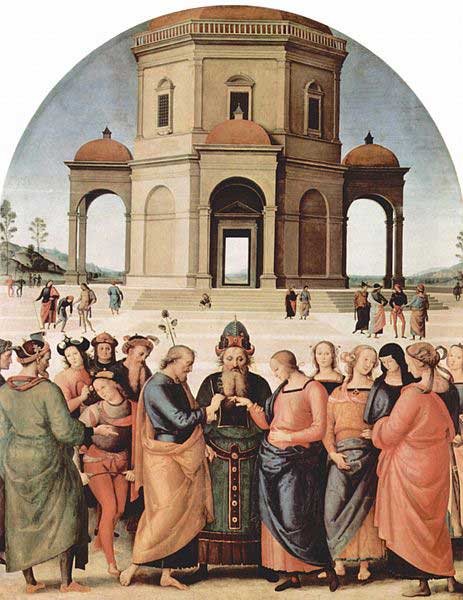 The Marriage of the Virgin, c.1504 Oil on wood. Musée des Beaux-Arts, Caen. (s)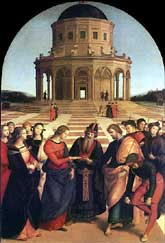 Raphael, Marriage of the Virgin. (s)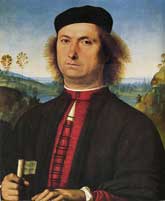 Francesco delle Opere. (w)
Pietro Perugino's famous pupil Raphael painted the same subject. When we compare the two images the extent of Perugino's influence on the young artist becomes clear.

The subject of the Pieta, the image of the dead Christ cradled on his mother's lap, was popular for the artists of the Renaissance. The receding portico leading to a serene landscape is a device often used in Perugino's work at this time.   

Also Known as the "Decemviri Altarpiece" we again see the Virgin placed under a portico. She is placed on a high throne surrounded by the saints, Lawrence, Louis, Herculanus and Constantius of Perugia.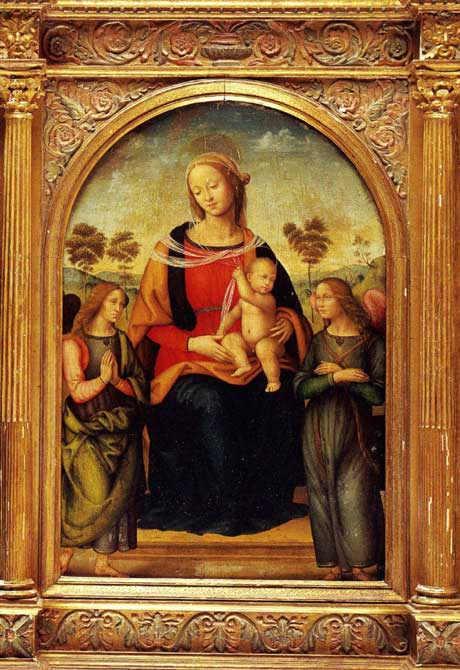 Madonna and Child with two Angels. c.1495/6 Citta delle Pieve, Umbria, Italy. (s)
Pietro Perugino became one of the foremost masters of the Renaissance. He produced a considerable body of work and influenced many of his contemporaries and pupils. Pinturicchio, Fra Bortholommeo and, most importantly, Raphael all took inspiration from him. Perugino died of the plague in 1523.