The Umbrian artist Pietro Perugino was born in the town of Citta delle Pieve which is situated between Siena and Perugia. Although he was born Pietro Vannucci, he owes his name to the city of Perugia, his date of birth is estimated as 1450 but the exact date is unknown.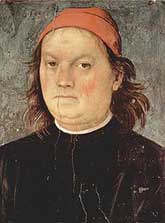 self portrait. Pietro Perugino. (w)

Until recently his work was overshadowed by his most famous pupil Raphael, this is unjust, Perugino was an acclaimed master who received commissions from many important patrons.

Perugino was apprenticed (at the tender age of nine) to the local artistic workshops of Perugia where he showed a precocious talent for his chosen trade. Later he worked under Piero della Francesca at Arezzo and then as a pupil of Andrea Verrocchio alongside Leonardo da Vinci, Domenico Ghirlandaio and Filipino Lippi.

In 1481 he was summoned to Rome where, along with others, he worked on the frescos for the walls of the Sistine Chapel. His contribution to the Chapel included "The Charge to St Peter", "Moses leaving to Egypt" and "The Baptism of Christ".
Assisting him in these works were various painters from his formidable workshop making the attribution of some of the details difficult, a debate that continues to the present day.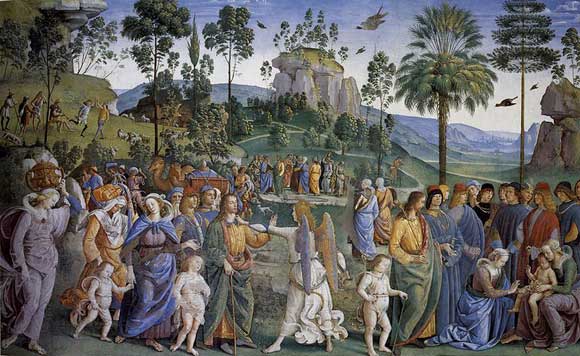 Moses Leaving to Egypt. Perugino and his workshop. 1482.
Sistine Chapel, Fresco 350 cm × 572 cm (140 in × 225 in) (w)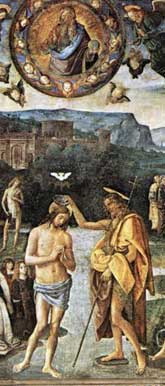 Baptism of Christ. (detail) (w)