"Apparition of the Virgin to St. Bernard" (w)
(1486) Oil on panel, 210 x 195 cm Church of Badia, Florence.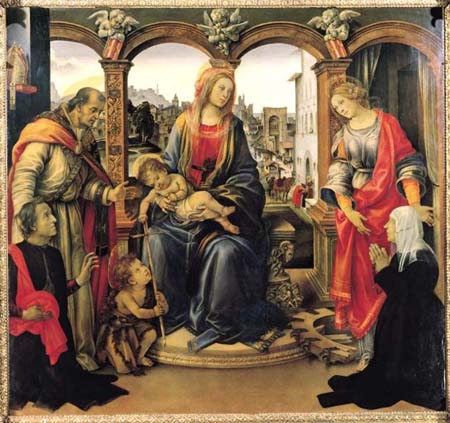 Madonna with Child and Saints, (w)
oil on panel 160 × 180 cm 1490-1493 Santo Spirito, Florence.
This work shows Tanai de' Nerli and his wife Nanna, kneeling at each side of the picture. It was common practise to have the patrons who commissioned the work included in the paintings.
Filippino worked in Rome decorating the Carafa Chapel at Santa Maria sopra Minerva, but returned to Florence by about 1492. He completed a work for the church of San Donato, The Adoration of the Magi, in 1496.