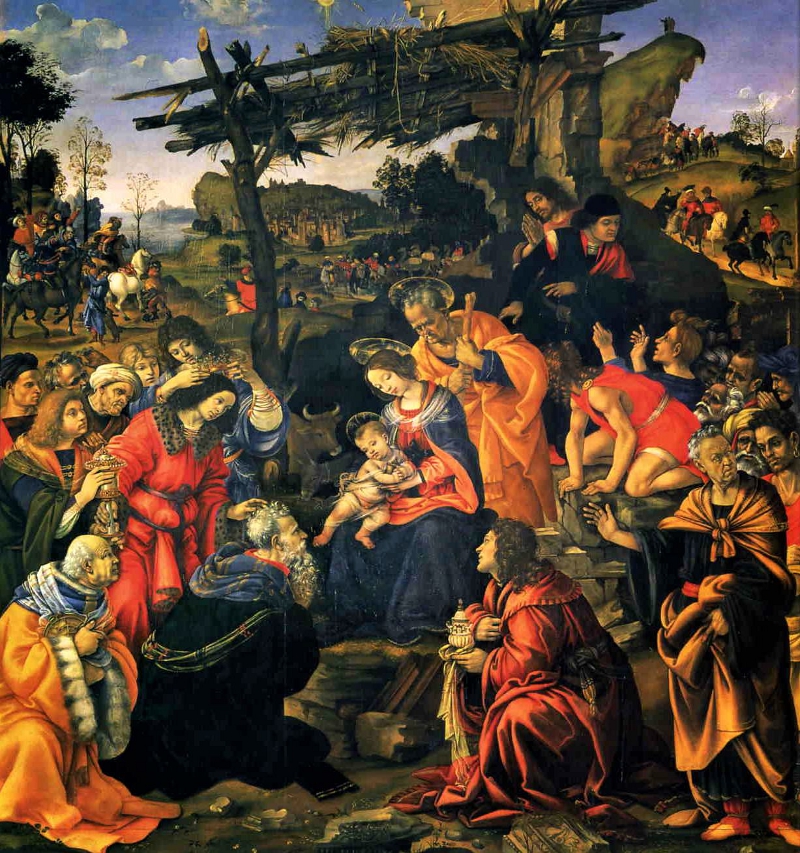 The Adoration of the Magi, 1496, Oil on panel (s)
Leonardo da Vinci's 1481 version of the Adoration of the Magi intended for the same monastery had not been completed because Leonardo had left Florence for Milan. Filippino's painting is a direct replacement for Leonardo's unfinished work.
The rich banker Filippo Strozzi commissioned him to paint a chapel in the Santa Maria Novella, Strozzi wanted the chapel to act as a funeral memorial for his family. The chapel is richly decorated with classical motifs, figures, and architecture, the main painting by Lippi is the Exorcism of the Demon in the Temple of Mars.
Exorcism of the Demon in the Temple of Mars. (s)
Set within an elaborate Roman architectural structure stands the god of Mars his hand raised in triumph. The lower half of the painting contains two scenes, St Philip expelling a pagan dragon and St John the Evangelist raising Drusiana from the dead.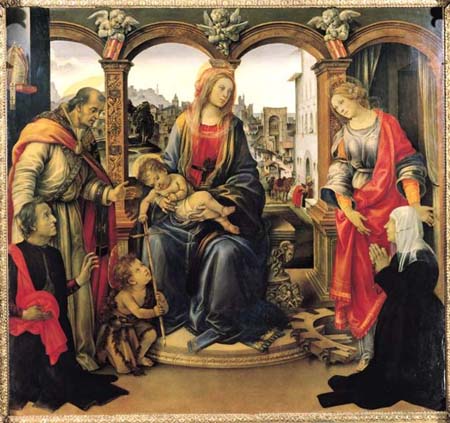 Madonna with Child and Saints, (w) oil on panel 160 × 180 cm 1490-1493 Santo Spirito, Florence.
This work shows Tanai de' Nerli and his wife Nanna, kneeling at each side of the picture. It was common practice to have the patrons who commissioned the work included in the paintings. 
Allegory of Music" 1500. (w) Tempera on panel, 61 × 51 cm. Gemaldegalerie, Berlin, Germany.
Filippino Lippi died 18 April 1504.