In the early years of the fifteenth century, Filippo Brunelleschi was the young architect at the forefront of Italian Renaissance architecture. He was the leader of a group of young Italian Renaissance artists who became intent on creating a new art and to break with the ideas of the past. 
He was born in 1377 in Florence and trained as a goldsmith and metalworker. Filippo had been educated with the intention of following in his father's footsteps as a lawyer he also studied Mathematics and literature.
His artistic inclination saw him enter a competition to design a new set of bronze doors for the baptistery in Florence. Another young goldsmith, Lorenzo Ghiberti, was Brunelleschi's main rival for this work and in 1403 Ghiberti was announced the winner. Ghiberti's technical skill was superior and his test bronze had been completed in one piece, Brunelleschi's effort had been cast in several pieces and then bolted together.
 Brunelleschi was so influenced by ancient Roman ruins that he and his friend, Donatello, travelled to Rome to study them completing many measurements and drawings on their journey. The young artists drew inspiration from these classical Roman buildings without being slavishly bound by them.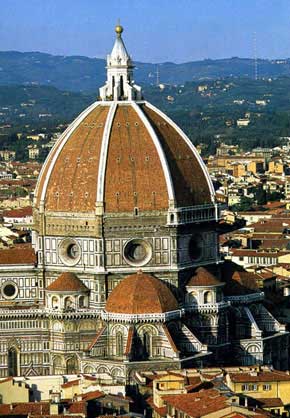 The Dome of Florence Cathedral.
In 1419 Filippo was given the task of completing the dome for the Cathedral of Florence. This work occupied a great deal of Brunelleschi's life and the challenge was enormous, no dome of that size had been built since antiquity. 
The dome became not only an architectural problem, but also demanded great engineering skill and Filippo invented, and patented, a new hoisting machine for raising the masonry required for the dome.
Work began in 1420 and was completed in 1436. 
The dome contains over 4 million bricks and the structure rests on a drum, not on the roof itself, this allowed the dome to be built without the need for scaffolding from the ground. The two shells of the dome are supported by ribbed reinforcements and are joined by horizontal and vertical struts through which the staircase weaves it's way to the top of the structure.
The base of the dome is tensioned by horizontal chains of iron and wood. (The elders of Florence had forbidden the use of external buttresses, and this was a part of the architect's solution to the problem).
The cathedral dome still dominates the skyline of Florence today, it remains as a lasting testament to a great architect.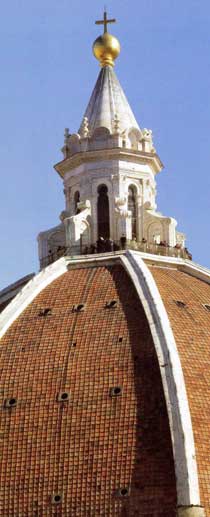 The Cupola. (s)

Visit if you can Florence is a magnificent city. If you look at the cupola (right) it's just possible to see the visitors at the top of the dome this gives some idea of the huge scale of the building.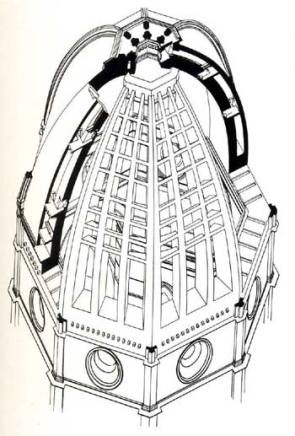 Section of the Dome. (s)