Correggio's Assumption of the Virgin.
Between 1526 and 1530 he decorated the dome of Parma Cathedral with his great masterpiece The Assumption of the Virgin. The painting is crowded with figures receding upwards and gives the illusion of an open sky as the Virgin ascends into heaven.

Correggio's painting is a swirling mass of figures. These are angels who guide the Virgin upwards. They sing and play musical instruments and below stand the apostles who gaze in bewilderment at the scene. In the centre of the composition, Jesus descends to greet his mother. The base of the dome is decorated with the four protector saints of the city of Parma, these are; St John the Baptist; St Hilary; St Thomas; and St Bernard. 
Criticism of Correggio was widespread, mainly of his public works. His fresco in the dome of Parma Cathedral was described by one visitor as a "ragout of frogs' legs." Considering that the illusion of an open ceiling created by Correggio was the first in northern Italy the criticism seems to be totally unjustified.
Correggio's Holy night.
One of Correggio's most famous paintings is The Holy Night. The scene is lit by the dazzling light radiating from the manger as the happy mother gazes at her new-born son.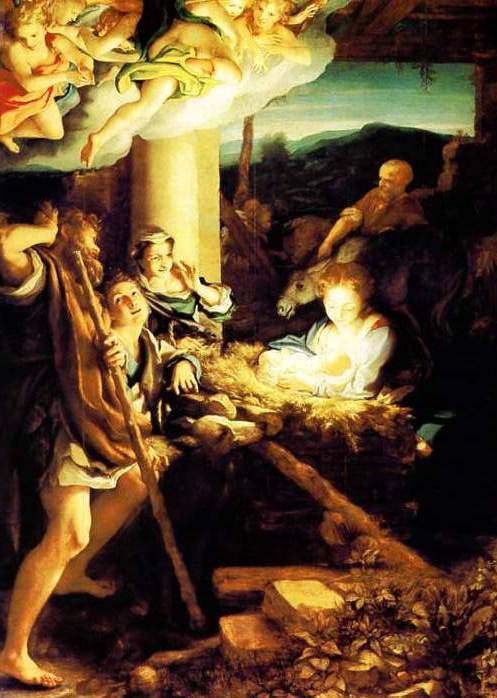 Correggio, The Holy Night, 1530 (s)
In the background, we can see St Joseph tending to one of the animals and the foreground is dominated by the figure of a shepherd who has rushed to witness the miracle. Two servant girls appear in the mid-ground, one is looking at the shepherd, and the other raises her arm dazzled by the light of the manger. The angels in the top of the picture ride on a cloud of expectation as they herald the birth of the infant Jesus. 
The Holy Night which is also known as The Adoration of the Shepherds, has been handled with great sensitivity by Correggio. This popular subject is treated as an intimate miracle in which the light creates a dramatic feel to the painting.
Personal Opinion:-
The Holy Night makes full use of the chiaroscuro effects that soften forms within the painting, an effect that is Leonardo like. But the light that radiates from within the image reminds me of the great works by the Baroque master Caravaggio; a masterpiece!

 Danae is yet another commission from Federico II Gonzaga and forms part of the series from the loves of Jupiter. It is now housed in the Galleria Borghese in Rome. 

Ganymede Abducted by the Eagle, 1531, is one of a series of works by the artist depicting the Loves of Jupiter from Ovid's Metamorphoses. Commissioned by Federico II Gonzaga of Mantua, these paintings are in stark contrast to his religious works.
Jupiter and Io, also from 1531, is now housed in the Kunsthistorisches Museum of Vienna.