The Doni Tondo is a circular panel painting of The Holy Family painted by the great renaissance polymath Michelangelo Buonarroti. The picture is surrounded by a wood-gilt frame designed, but not carved, by the artist. It was commissioned by the Florentine businessman Agnolo Doni to commemorate his marriage to Maddalena Strozzi from the powerful Florentine family who rivalled the Medici in the early years of the fifteenth century. Why Agnolo commissioned a renowned sculptor to paint this picture, and why Michelangelo agreed to execute the work, remains a mystery. However Michelangelo, despite his limited experience of tempera painting, has created a masterpiece of composition, beauty and invention.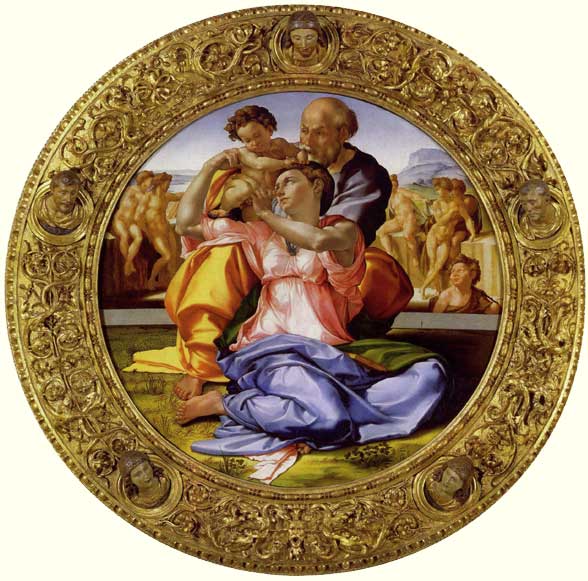 Michelangelo's Doni Tondo. Tempera on Wood, c.1506-1507. Uffizi Gallery, Florence. (s)
The composition features the Madonna seated on the ground. She reaches over her shoulder towards her child. Joseph squats behind her and we are left uncertain whether it is Joseph who passes the infant to Mary or it is the mother who passes the child to his father. Mary's clothing consists of a vivid primary red dress and blue mantle complimented by a strip of green. The yellow-orange of Joseph's garments are covered by a deep blue tunic. The tempera pigment has retained the brightness so typical of that medium.