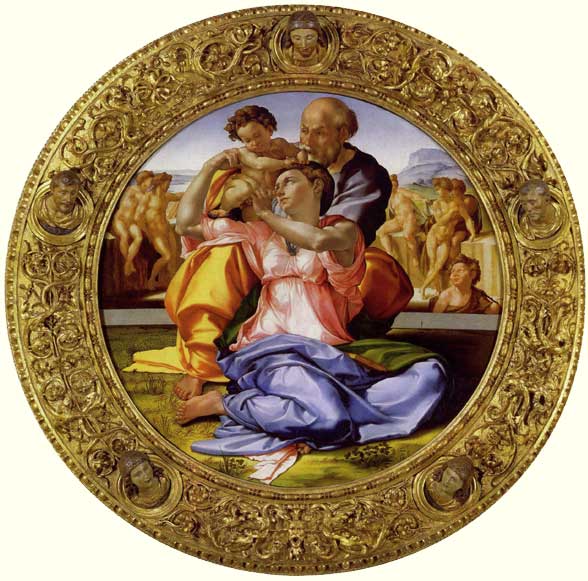 Michelangelo's Doni Tondo. Tempera on Wood, c.1506-1507. Uffizi Gallery, Florence. (s)
The composition features the Madonna seated on the ground. She reaches over her shoulder towards her child. Joseph squats behind her and we are left uncertain whether it is Joseph who passes the infant to Mary or it is the mother who passes the child to his father. Mary's clothing consists of a vivid primary red dress and blue mantle complimented by a strip of green. The yellow-orange of Joseph's garments are covered by a deep blue tunic. The tempera pigment has retained the brightness so typical of that medium. 
In Michelangelo's clever composition the three heads form an inverted triangle balanced and supported by the positioning of the arms. The figures interact in an intense and intimate way, the action flows from Joseph's eyes, which are firmly fixed on the child, who in turn looks at his mother with head tilted downwards. Mary's face is a picture of adoration and love as her eyes roll upward to meet the gaze of her son. This is the most tender grouping of figures ever produced by Michelangelo.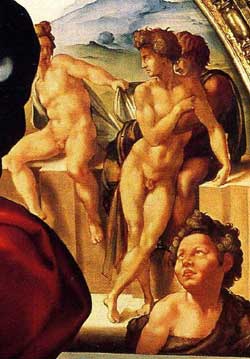 | | |
| --- | --- |
| In this detail, a young John the Baptist occupies the centre ground of the composition, his gaze firmly fixed on the Holy Family. The nude male figures that form the background are a precursor to Michelangelo's work in the Sistine Chapel. They seem to be images from a carefree bygone age with John bridging the gap between the pagan background figures and the Christian Holy Family in the foreground. (s)  | |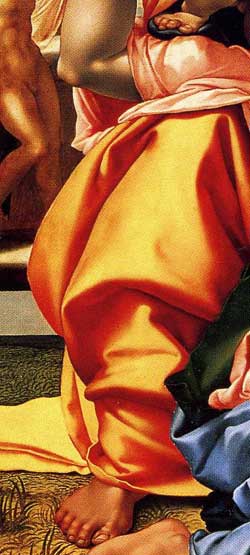 A detail of the drapery from Joseph's right leg
 highlights the artist's skill when painting the folds
in the garment. Also, note the blades of grass created with a stroke of Michelangelo's brush. (s)