Duccio di Buoninsegna
Master of Sienese Art.
Duccio di Buoninsegna was born in Siena, Tuscany in about 1256. He was one of the most influential artists of his time along with that other great master from Tuscany, Cimabue. He spent almost his entire working life in Siena.
Despite not having a great deal of information about his personal life, we do know that he fathered at least seven children and that he died in 1318 or 1319.
Madonna and Child c. 1300 Tempera 27.9 × 21 cm Metropolitan Museum of Art, New York (w)
Works definitely attributed to him number no more than nine or ten, but Duccio did bridge the artistic gap between the Byzantine age and the start of the Renaissance.
His painting of a Madonna from 1300 was purchased by the Metropolitan Museum of Art in New York City and has caused considerable controversy given its price tag of 45 million dollars.
Known as the Stoclet Madonna the authenticity of the painting is the subject of some dispute and some experts believe the work to be a nineteenth-century forgery.
The Madonna is the most expensive purchase ever by the museum and it's clear to see why the argument continues.
Duccio's most famous masterpiece is the Maestà depicting the Virgin and Child surrounded by angels and saints.
The work consisted of many panels but several of these have been dispersed or lost.

Commissioned by the city of Sienna and installed in the cathedral of Siena on June 9, 1311, the work is now in the museum of Siena.
An eyewitness to the event wrote:

And on that day when it was brought into the cathedral, all workshops remained closed, and the bishop commanded a great host of devoted priests and monks to file past in solemn procession.
This was accompanied by all the high officers of the Commune and by all the people; all honourable citizens of Siena surrounded said panel with candles held in their hands, and women and children followed humbly behind.
They accompanied the panel amidst the glorious pealing of bells after a solemn procession on the Piazza del Campo into the very cathedral, and all this out of reverence for the costly panel… The poor received many alms, and we prayed to the Holy Mother of God, our patron saint, that she might in her infinite mercy preserve this our city of Siena from every misfortune, traitor or enemy.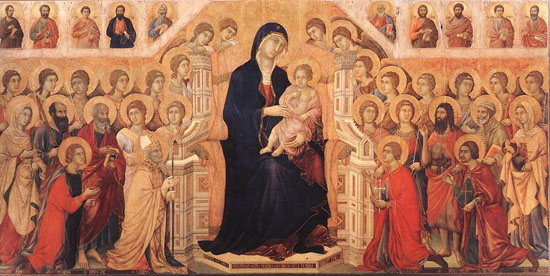 Maestà 1308-1311 Tempera and gold on wood 213 × 396 cm Museo dell'Opera Metropolitana del Duomo, Siena. (w)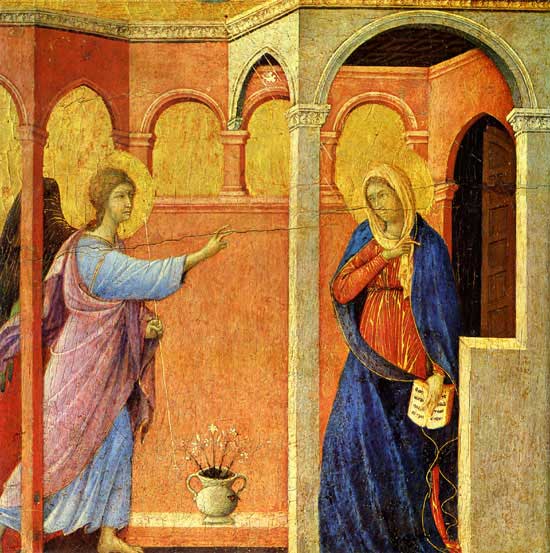 Maesta Altarpiece: Annunciation about 1308-1311Gold and tempera on panel, 43 x 44 cm London, National Gallery (w) The painting was restored in 1956.