The engraving of 1504 attempts to present idealised depictions of the human form. The figures of Adam and Eve are inspired by classical monuments, Eve, in particular, is very statuesque, her feet firmly set on solid ground. Adam is based on the pose of the Apollo Belvedere, a marble sculpture from Classical Antiquity. The artist has created a masterpiece that required many preparatory drawings and measurements. The cat and the mouse live side by side in harmony with the elk and cow in the Garden of Eden. The garden disappears into the dark background of the work allowing the clear outline of the figures to show in contrast to the shade of the forest.   
The oil panels of 1507 display the influences of Italian art. They show Eve as a more complex character, see how she positively dances to take the forbidden fruit from the serpent coiled on the tree of knowledge. Adam displays an air of bewilderment, unsure of the consequences of the actions unfolding before him, he receives the apple and becomes a willing party to the first sin. 
It must be remembered that these two works were made using two totally different techniques and any comparisons must take this into account. 
The three engravings shown below complete a famous trinity of engravings by Durer, because of their superior technical attributes these three prints are described as the artist's Master Engravings.
Note the figure of the Devil, (represented as a hairy goat), and Death, who looms in the background holding an hourglass. The Knight in full armour rides through this menacing landscape. Resolute he represents a Christianity that is superior to the perils of the supernatural. The Knight on his horse is based on the equestrian statues of Renaissance Italy. 
It has been recorded that Durer's general character displayed an unhappy seriousness and Melencolia 1 could show the artist, frustrated by his lack of inspiration, dejected and bored by his slow progress.
St Jerome symbolises religious contemplation as he works in his study translating the Scriptures from Greek and Hebrew into Latin. The lion and the dog peacefully dozing contentedly add to the calm serenity of the scene.
The Artist and the Natural World.
These images of the natural world are another example of the polymathic nature of this great northern Renaissance artist.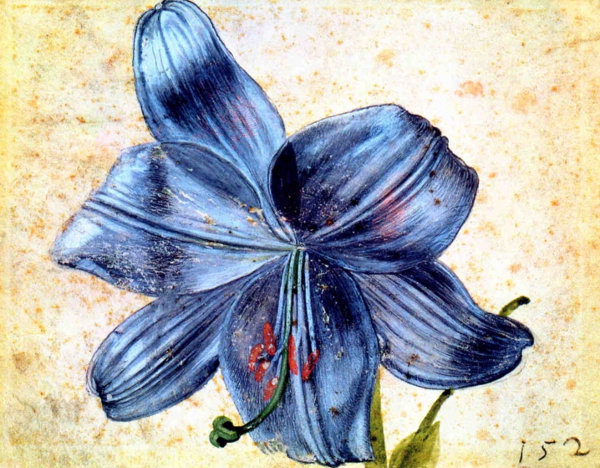 Study of a Lily, 1526 (s)
Watercolour on Paper, Bayonne museum Bonnat, France.
This stunningly beautiful watercolour of a lily perfectly illustrates the artist's interest in capturing the wonders of the natural world.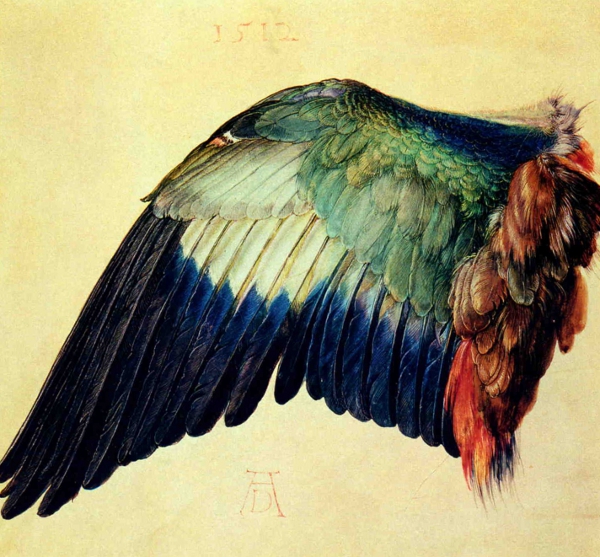 Wing of a Roller, 1512 (s)
Watercolour and Gouache on Parchment, Graphische Sammlung Allbertina, Vienna, Austria.
The superb colours in this study are a stand out feature of the artist's skill. The blues and greens of the wing are exceptional as is the blood stained red areas at the detached section of the wing. It is among the finest examples of his many paintings of birds.
Paintings influenced by Italian Art,