Works in the Sassetti Chapel, Florence.
The banker Francesco Sassetti commissioned Ghirlandaio to paint frescoes in the Sassetti chapel in the church of Santa Trinita in Florence. This is considered to be the artist's masterwork. The theme is the life of St Francis.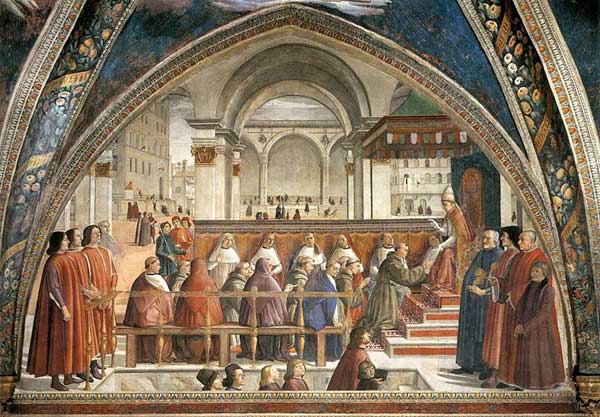 The Confirmation of the Franciscan Rule. (w)
 This picture contains several of the artist's patrons and includes:- On the right, in the foreground, are Sassetti's brother-in-law, the Gonfaloniere di Giustizia Antonio Pucci; Sassetti's employer, Lorenzo de' Medici; Francesco Sassetti himself and his son Federico.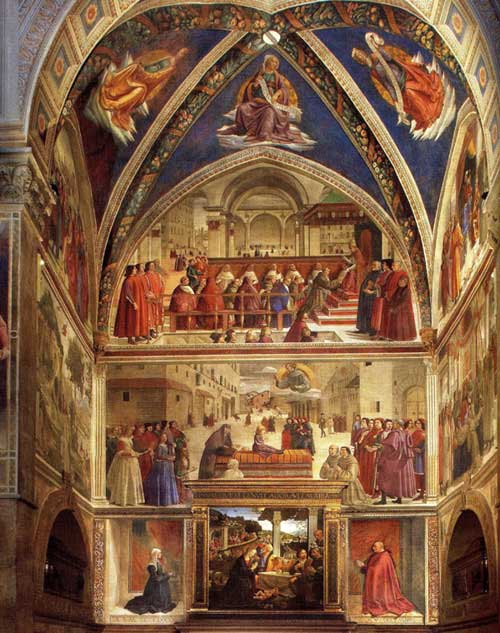 The Chapel Altar. (s)
In this multiple scene, the "Adoration of the Shepherds" (shown below) can be seen in the lower centre of the Altar.
The top centre image is "The Confirmation of the Franciscan Rule"(as seen above).
The kneeling figure in the red robe is the patron, Francesco Sassetti.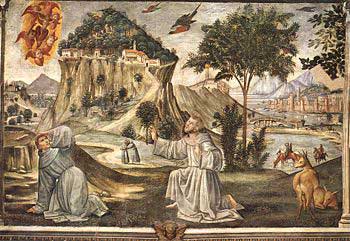 The Stigmata of St. Francis. (w)

The Death of St. Francis. (w)