Eleven days after the execution of Anne Boleyn Henry married his third wife Jane Seymour. Jane was the only one of Henry's wives to bear him a son, Edward.
The artist has produced this charming portrait of the young prince magnificently clothed in royal finery. The attention to detail is superb, sadly Jane Seymour died on 24th October 1537 less than two weeks after Edward's birth. 
One of Holbein's most famous paintings is the Ambassadors. The work is a double portrait of the diplomats Jean de Dinteville (on your left) and Georges de Selve, their mission included diplomatic proposals regarding the Kings marriage to Anne Boleyn. The finely painted details within the work contain many symbolic images relating to that mission.
The lute with a broken string, suggesting disagreement; the open book is a text by Luther, indicating some sympathy with reform. Perhaps the most incredible image is of the distorted skull in the foreground. It rises from the floor only morphing into its skull-like shape when viewed from a very acute angle, almost side on, (anamorphosis perspective) it's prominence within the painting suggesting a Memento mori (remember you must die) a reminder that we are all mortal.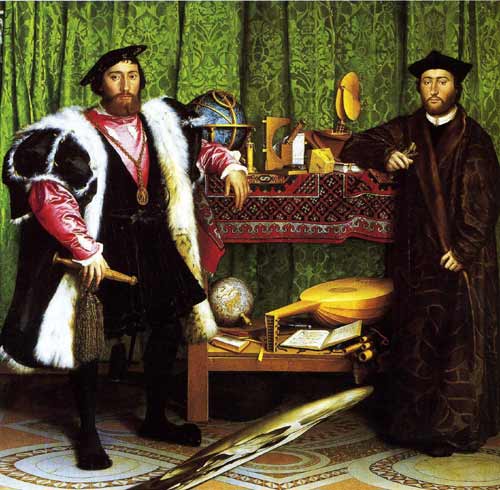 The Ambassadors 1533. National Gallery London (s)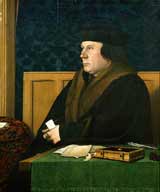 Thomas Cromwell c.1532 (w)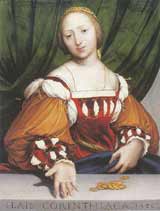 Lais of Corinth. c, 1526 (w)

Holbein travelled to Brussels charged with making a portrait of Christina of Denmark who was touted as a potential wife for the widowed King Henry. His picture of Christina was well received but Henry eventually married Anne of Cleaves (his fourth wife), the artist painted Anne's portrait in 1538.
On the arrest and execution of Thomas Cromwell on 28 July 1540, the artist had lost his greatest patron. He completed many commissions from private patrons such as the community of German merchants in London. Holbein also painted some fine miniatures and a portrait of Anthony Denny, a prominent member of the Privy chamber, who gained favour in the English court after the execution of Henry's fifth wife, Catherine Howard.
The King married for the sixth and final time on 12 July 1543 to, the twice-wed, Catherine Parr.