Mantegna's frescoes in the Camera degli Sposi.
In 1460 Mantegna left Padua and settled in Mantua where he was appointed court painter to the Gonzaga family. (Ludovico Gonzaga was the ruler of the city of  Mantua from 1444 to his death in 1478.) He painted the Camera degli Sposi, the bridal chamber, a cycle of frescoes from 1465 and completed in 1474.

The court scene is on the west wall of the bridal chamber. It shows Ludovico Gonzaga with his wife Barbara of Brandenburg along with several family members.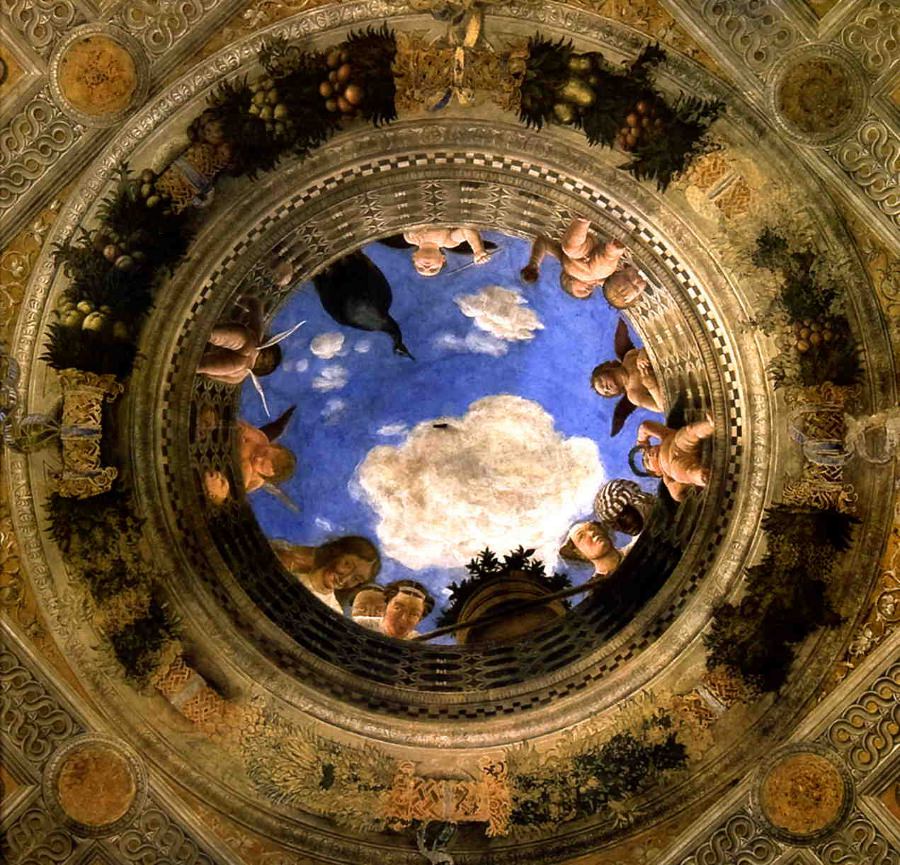 The ceiling of the Camera degli Sposi 1465-74 (s)
Note how Mantegna has used his knowledge of perspective and foreshortening to create the illusion of a three-dimensional image on the flat two-dimensional surface of the ceiling. Viewed from below (as in the image above) the artist has used his skill to punch a hole through the ceiling to the open sky above. This is a particularly fine example of di sotto in sù (seen from below).
Mantegna's frescoes likely relate to a previous wedding ceremony that had previously taken place in the same chambers. An ancient custom dictates that marriages had to take place beneath an open sky. Andrea's clever ceiling painting representing a view of the heavens was an alternative. In what was the first painting in Europe to create an illusionistic vision within an enclosed room the artist has superbly interpreted an age-old custom.
Saint Sebastian.
Andrea's fascination with St Sebastian is evident, he painted the subject several times with versions in Vienna, Paris, and Venice. 
Personal opinion:-
The version in the Louvre is by far the largest of the three Sebastian's. I love the two guys chatting in the bottom right corner. They are walking past the scene of the martyrdom in a nonchalant manner and could almost be on a Sunday stroll. Only the bow and arrows suggest that they are indeed executioners!!!