Rubens the Diplomat.
In February 1622 Rubens was commissioned to produce a large series of paintings, The Life of Marie de' Medici. Marie was the second wife of King Henry IV of France. Following her husband's assassination in 1610, she became regent until her son, the future King Louis XIII, came of age. She was a member of the powerful Medici banking family of Florence. 
The Medici were great patrons of Renaissance art and Marie herself was famed for her own artistic patronage. 

Portrait of Marie de' Medici, 1622-1625. Oil on canvas, 276 x 149cm, Louvre, Paris. (s)

It's difficult to imagine a modern-day Queen posing, bare-breasted, for an official portrait!
 His Habsburg employers entrusted the artist as a diplomatic envoy and he received a monthly allowance, decreed by The Infanta Isabella, Vice -Regent of Flanders.
Rubens travelled between the Courts of Spain and England and his missions were rewarded with two knighthoods, the first in 1624 by Philip IV of Spain and then by Charles I of England in 1630. His diplomatic work did not seem to have an adverse effect on his art, in addition to his work for private patrons, the prolific painter completed many commissions for Philip of Spain. 
Sadly it was during this period that his wife, Isabella Brandt, died on 20th June 1626.

On 5th June 1629, Rubens arrived in London to conduct peace negotiations between England and Spain. He painted his Peace and War and presented this allegorical work to Charles I. Charles also commissioned him to work on a series of nine ceiling paintings for the Banqueting House in London. Further recognition of the artist's skills came when he was made an honorary Master of Arts by Cambridge University.

The artist returned to Antwerp from London in April 1630 and on 6th December married Helene Fourment the daughter of a rich tapestry dealer Daniel Fourment. Helene was sixteen years old when she married the fifty-three-year-old artist, she inspired many of the artist's later works acting as a model for many of them. Ruben's portrait of her in a fur wrap is a particularly famous example of the artist's intimate obsession with his new wife. 
In 1634 the city council of Antwerp commissioned the artist for a series of sketches of triumphal arches. these were designed for the ceremonial reception of the new Governor, the Cardinal-Infante Ferdinand. Rubens was made Court Painter to Ferdinand and received a commission for 112 paintings based on Ovid's Metamorphoses.  
In 1635 the artist purchased the Chateau de Steen near Elewijt, a village in the municipality of Zemst, Flemish Brabant, Belgium. He was to spend many summer months at the Chateau where he painted his final landscapes in and around the locality.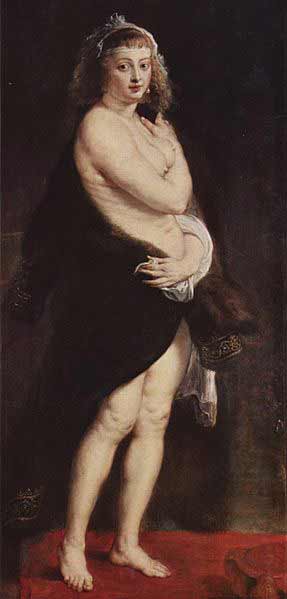 Portrait of Helene Fourment in a Fur Wrap. (w) Oil on wood. 176 x 83 cm.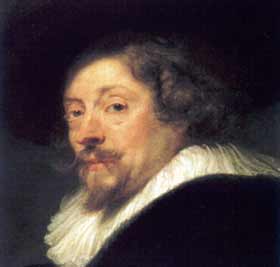 Self-Portrait 1640 (s)
The Kunsthistorisches Museum, Vienna, Austria.
This was the artist's final self-portrait. Rubens, who was suffering from gout, wrote his will on 27th of May, he died on 30th May 1640 at the age of 62. 
The cosmopolitan artist had assimilated the many lessons learned from the Italian Renaissance and created his own artistic legacy. Along with his Italian contemporary Caravaggio, he epitomised the Baroque style that was prevalent immediately following the Renaissance period.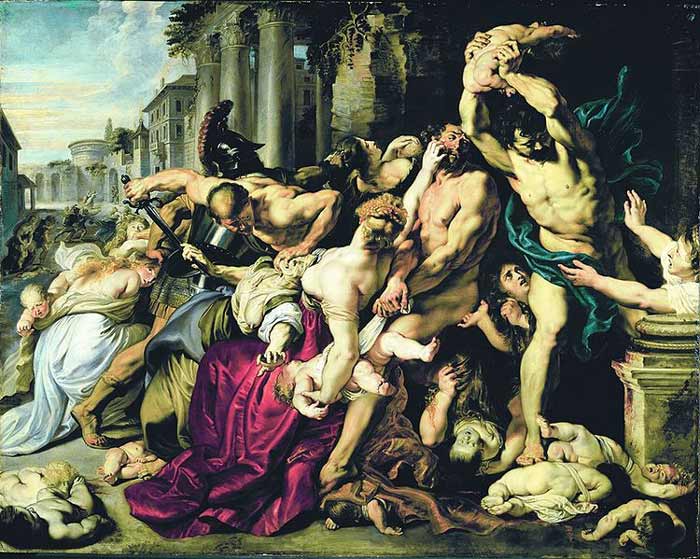 The Massacre of the Innocents. 1611-1612, Art Gallery of Ontario, Toronto. (w)
This work was only attributed to Rubens in 2001. It was thought to be by one of his assistants until an expert in Flemish art (George Gordon) recognised the painting as the work of the master himself. It was sold at auction at Sotheby's on July 10th 2002 for the sum of £49.5 million. It is a very dramatic and quite graphic account of the Biblical story in which King Herod orders the slaughter of every new-born male child in the village of Bethlehem. His motive was to avoid the loss of his kingdom to the King of the Jews whose birth had been announced in a prophecy.