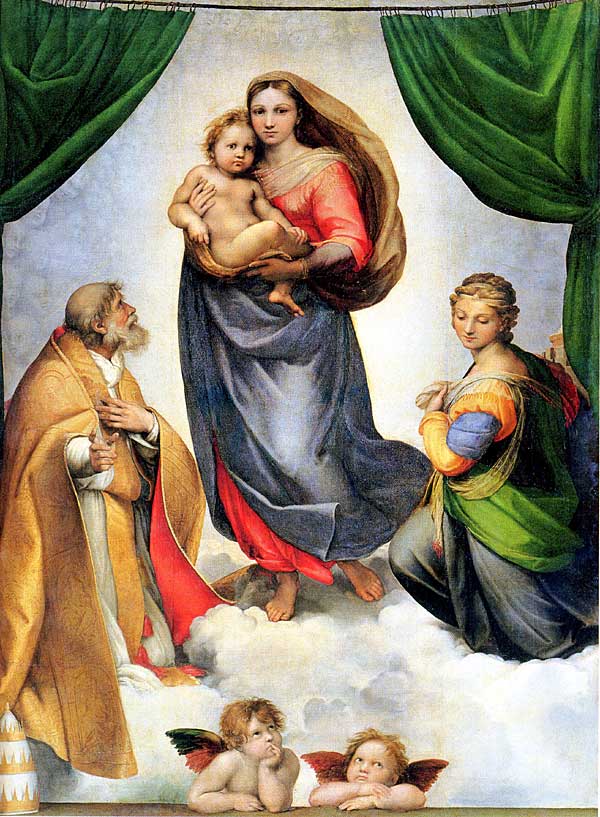 The Sistine Madonna.
1513-1514. Oil on canvas. 104 x 77in (265x196cm) Gemäldegalerie Alte Meister, Dresden. (s)

The Madonna holds her child as she floats on a swirling carpet of clouds, she is flanked by St Sixtus and St Barbara. At the foot of the painting are two angels (cherubs) who gaze in wistful contemplation. There has been lots of speculation about the sadness, or even petrified expressions on the face of the Virgin and the infant Jesus. Why are they so mournful and terrified? Why does St Sixtus point out of the painting at us, the viewers?
The answer becomes clear when we consider the originally intended location of the work. Placed behind a choir screen, that no longer survives, the Sistine Madonna would have faced a crucifix attached to the screen. So the mystery is solved, the Virgin and infant Jesus gaze out on the crucifixion. The frightened expressions are understandable, Jesus sees his own death and his mother is witness to the torture and death of her child. It is to the scene of the crucifixion that St Sixtus also points and not to the viewer.