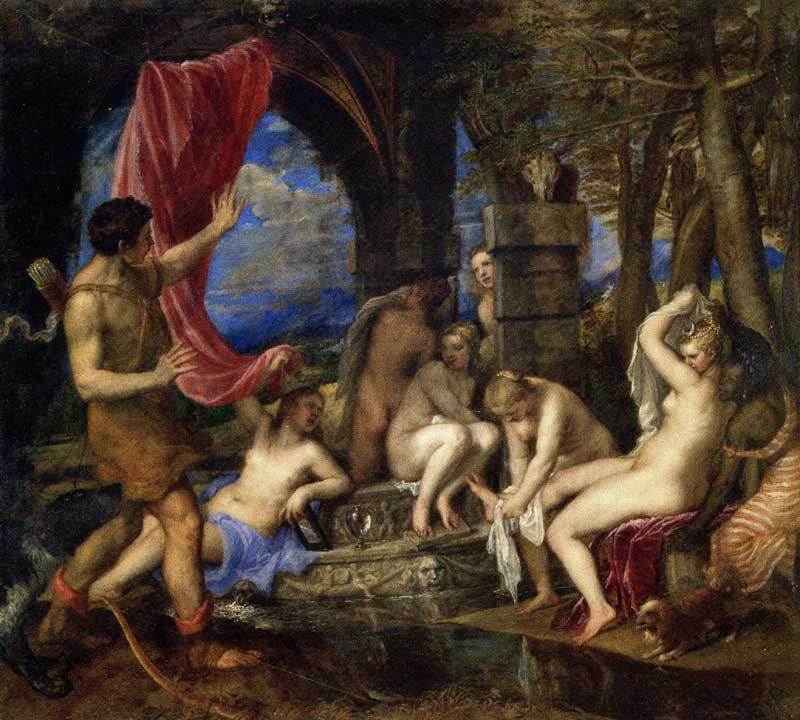 Diana and Actaeon 1556-59, oil on canvas, 184.5 x 202.2cm
National Gallery London. (s)

The story of Diana and Actaeon is taken from the Roman poet Ovid's Metamorphosis.
A hunter (Actaeon) is separated from his stag hunting friends and stumbles on Diana the goddess of the hunt. Diana is seen refreshing herself by a grotto in the company of her virgin nymphs. Actaeon is startled by the array of nude young women that he has inadvertently disturbed. He raised his arm in shock as the nymphs attempt to cover their nakedness while the goddess casts a menacing glance at the young hunter as her handmaiden attempts to cover her with a shift.    

At Diana's feet, a dog yaps at the intruder and a nymph peeps out from behind a pillar at the handsome hunter.  
Titian's uses colour contrasts to expertly harmonise the picture. From Actaeon's vermilion boots to the lush blue and red drapery of the nymph in the foreground to the deeper scarlet of Diana's robe the artist has created a perfectly balanced masterpiece.