The architect Andrea Palladio had completed a villa for the Barbaro family in Maser, and Paolo was invited to decorate the villa with frescoes. The decoration included portraits of the Barbaro family, with the ceilings painted with mythological figures, the work is the artist's most important fresco cycle and was a great success for both artist and architect.

The monks of the San Giorgio Maggiore Monastery in Venice commissioned Veronese to produce a huge painting The Marriage at Cana. The work began in 1562 and was completed barely a year later in 1563.


The Marriage at Cana,
Height 6.77m Width 9.94 ( Detail ) Louvre Paris. (w)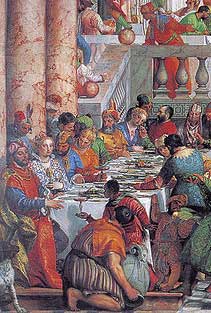 Between 1565 and 1570 Veronese painted another of his monumentally large works. Alexander and the family of Darius depict the Persian king Darius before Alexander the Great after the battle of Issus. The painting is once again rich in colour but is more decorative than The Cana work with less depth. This is emphasised by the parallel column of architecture that forms the background to the work.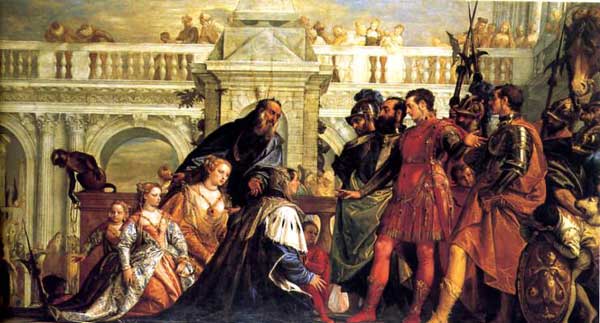 Alexander and the family of Darius. 1570. National Gallery London. (s)
He married Elena Badile in 1565. She was the daughter of his first master Antonio Badile and it would seem that the artist's personal life was a happy one the union produced four sons and a daughter. 
His painting for the Basilica di Santi Giovanni e Paolo, The Last Supper, contained not only the Biblical scene but exotic dwarfs and soldiers in addition to an array of animals. This was typical of the narrative quality associated with his paintings. 
The work was completed in 1573. However, the inquisition summoned Paolo to explain his inclusion of the exotic within the context of a religious picture. The artists solution to this tricky problem was to simply rename the painting and it is now known as the Feast in the House of Levi.
Feast in the House of Levi. 1573. (p)
This photograph of the painting, taken in the Accademia Galleries in Venice, gives some indication of the huge scale of this masterpiece. The figures are life-size as emphasised by the art lover (me) who views the work from a distance of no more than a few feet.