Bartolomeo Colleoni.
The equestrian statue of Bartolomeo Colleoni is Verrocchio's most famous work and was commissioned by the Republic of Venice in 1478. The artist submitted a wax model of the work in 1488 and he moved to Venice to oversee the casting of the statue.
Verrocchio has placed the general in a bold upright pose. Both the horse and the face of Colleoni have been studied in minute detail and the strong facial details add to the air of grandeur that permeates the piece. Colleoni was a general who led the Venetian army, looking at Verrocchio's statue one can imagine the general proudly leading his men into battle. Verrocchio fell ill and unfortunately did not get to see this famous statue, he died in 1488 before the work could be finished.
Terracotta Angels.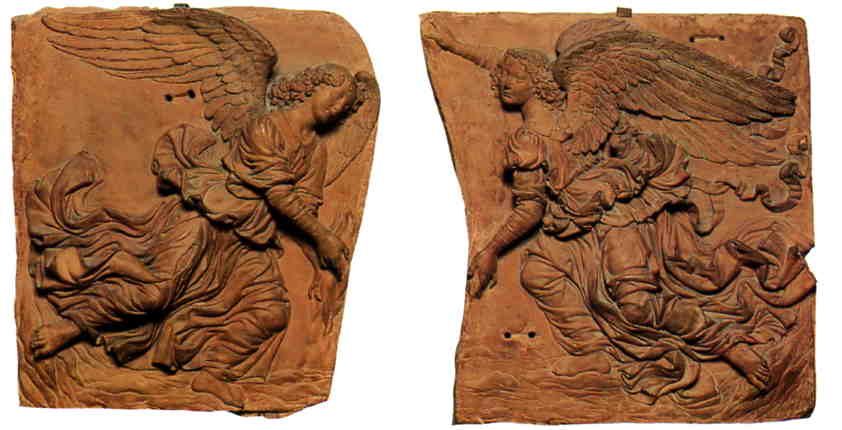 Terracotta Angels, c. 1480, Louvre, Paris. (s)
Verrocchio was the master to many important pupils it is perhaps not too surprising that many of his works can be difficult to authenticate. His most famous apprentice was of course Leonardo da Vinci and because Leonardo is possibly the most famous artist on the planet – and the most lucrative - finding works that Leonardo may have had a hand in creating is very tempting indeed.
Such is the case concerning Verrocchio's Terracotta Angels. The clamour to attribute a work to Da Vinci, if proven, can be extremely financially rewarding and so the desperation to find a sculpture by Leonardo's hand continues unabated. The Terracotta Angels remain as a sculpture by Andrea del Verrocchio.
An artist who has been largely overshadowed by his famous pupil, Leonardo da Vinci, Andrea del Verrocchio is one of the most important figures of the Italian Renaissance. His influence on the generation of artists who followed him cannot be underestimated and he deserves his place at the high table of art history.