The Damned and the Saved.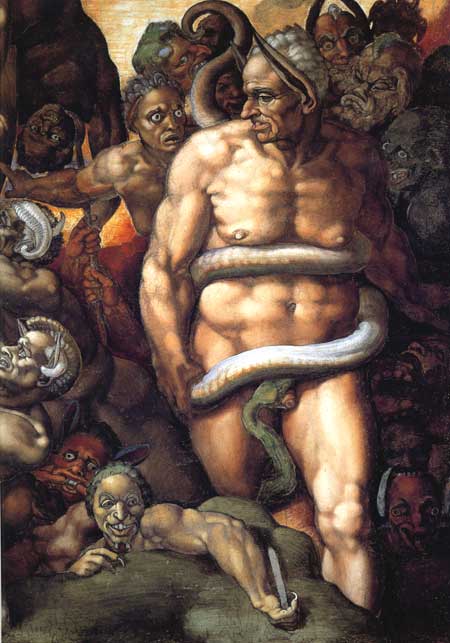 Baigio da Cesena as Minos (s)
 Baigio da Cesena, a papal master of ceremonies, criticized Michelangelo's work saying that nude figures had no place in such a sacred place, and that the paintings would be more at home in a public tavern.
 Michelangelo included da Cesena in the Last Judgement as Minos, one of the three judges of the underworld. When Baigio complained to the Pope the pontiff explained that he had no jurisdiction over hell and that the portrait would have to remain.
In Greek mythology, Minos was the king of Crete and was the son of Zeus and Europa. He became one of the three judges of the underworld after his own death and Michelangelo has depicted Minos with ass-ears and wrapped in serpents coils. The coils indicate to what circle of hell the damned are destined.
The serpent's bite on the genitals of Minos (da Cesena) illustrates Michelangelo's disdain for the Cardinal and of course Baigio must have been furious but.... A point well made I believe!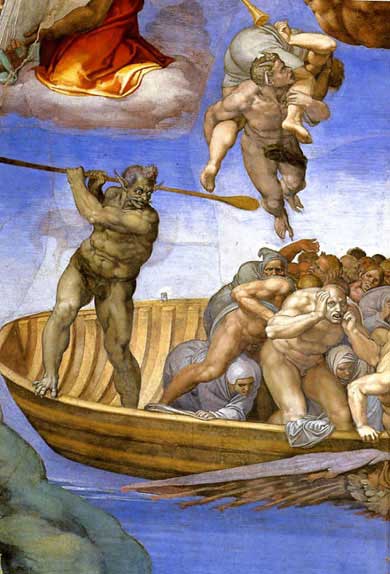 The boatman Charon (s)
 At the bottom of the painting the boatman Charon can be seen ferrying the damned into hell.
Charon is the mythical boatman of Roman and Greek mythology who ferried the damned to hell. He is featured in Dante's Devine Comedy, and also in Virgil's Eneid, both of these works provided inspiration for Michelangelo's interpretation of the Last Judgement.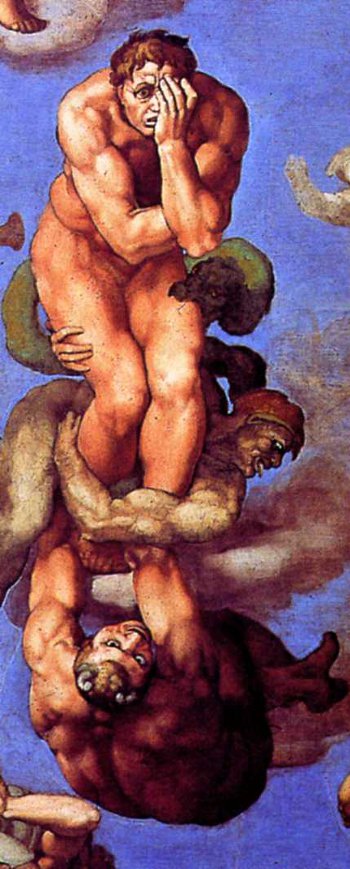 Damned Man (s)
 Lower down on Christ's right is the figure of a damned man who covers one eye in fear of his terrible fate.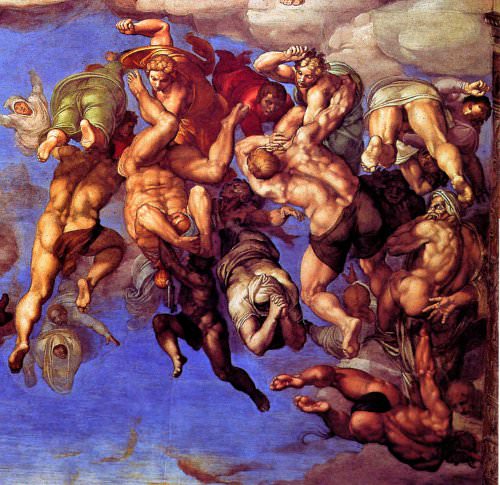 The Damned are cast into the Underworld. (s)
In this scene Angels push and punch the hapless damned down toward Charon the boatman on their journey into hell. Demonic creatures hasten the doomed to their final destination in the Underworld.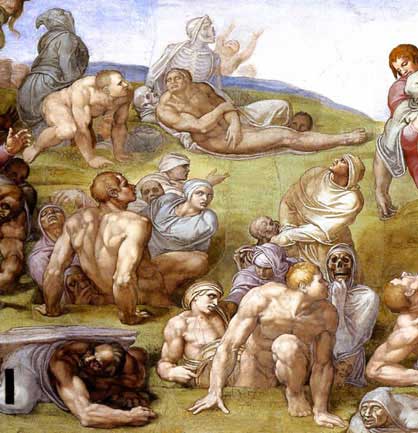 The resurrection of the dead (s) 
The resurrection of the dead is shown at the bottom left of the painting. 
The Righteous are raised into Heaven. (s)
Michelangelo's knowledge of human anatomy is illustrated by the mass of bodies, viewed from every angle, as they are raised into Heaven.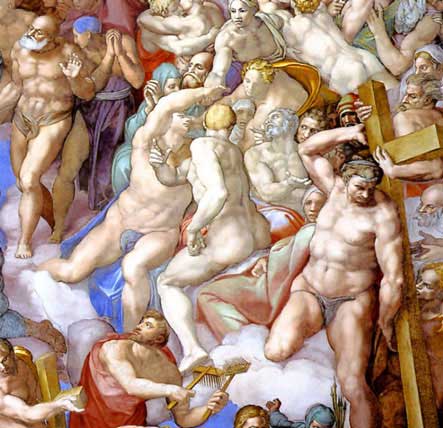 The Saved Rejoice (s)