The Stanza della Segnatura.
The Disputation of the Sacrament. 1508/9 (s)

The painting shows two groups of religiously minded people on either side of an altar. They are discussing, rather than disputing, the meaning of Heaven. Above them, seated on a cloud, are saints and prophets with Christ in the centre flanked by the Madonna and St John.

Note the perspective effect given by the floor as it leads the eye deeper into the picture and the golden light falling from Heaven.
What a fabulous composition!

 Personal Opinion:-
 Try to see these pictures in the Vatican if you can. The figures are life-size and it is very difficult to appreciate the sheer scale from much smaller reproductions. Spend some time in the rooms and be in awe of the skill, time, and effort required to produce these works.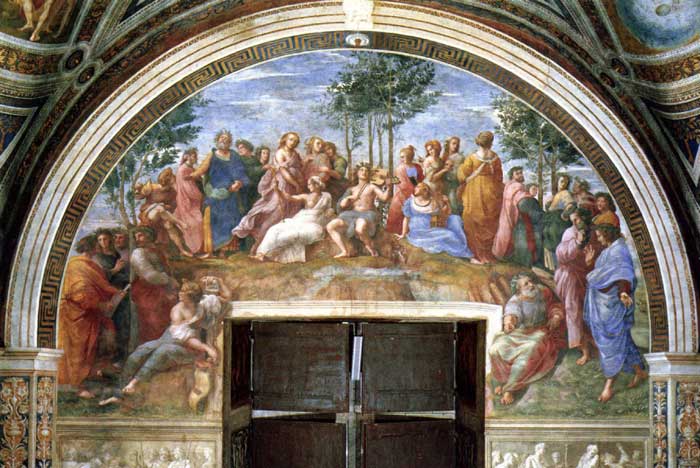 Parnassus. 1509/10  (s)
This painting shows musicians with their muses. The figure in blue with his face gazing at the sky represents Homer, and Dante is seen in profile next to him.