Personal Opinion:-
Considering Signorelli's keen interest in the human form some of his figures in this work seem a little experimental and disjointed. The pot-bellied angel with the spindle legs is unflattering, while St Onofrius is depicted as a withering example of old age. However, the work was accepted as an Altarpiece despite the awkwardness of some of the figures! Ouch!
Signorelli's work in Orvieto Cathedral.
Signorelli's vast compositions housed in the Chapel of the Madonna di San Brizio, Orvieto Cathedral, Umbria, Italy are his most famous works. Painted in the chapel's lunettes these frescoes are regarded as his masterpiece.  
The Preaching of the Antichrist. Fresco, Chapel of San Brizio, Orvieto Cathedral. (w)
The Devil whispers into the ear of the Antichrist as he preaches his sermon. In the skies above the Archangel Michael descends  and prepares to do battle with the Antichrist. There are thought to be many portraits of famous renaissance personalities within the Antichrist. These include Raphael, Christopher Columbus, Cesare Borgia, Dante and a self-portrait of the artist.
The following three images (The Damned, The Resurrection and the Elect) all display an impressive number of male and female nudes. It is clear that the artist had made extensive studies of human anatomy even to the point of dissecting dead bodies. His figures twist and turn, bend and stretch, gesticulating in all manner of positions in what is a magnificent study of the human form.
Michelangelo was greatly influenced by these works and even used Signorelli's frescoes as a reference point when completing his own great masterpiece, The Last Judgement in the Sistine Chapel.  
The Damned banished into Hell. Chapel of San Brizio, Orvieto Cathedral. (Wikimedia Commons)
The damned are a group of sinners who have transgressed so seriously that they have been denied entry into the kingdom of heaven. Instead they have become a mass of desperate humanity as they twist and gesture the anguish is etched on the faces of this writhing multitude. They remain helpless as demons from hell arrive and capture them in preparation for their transportation to the underworld.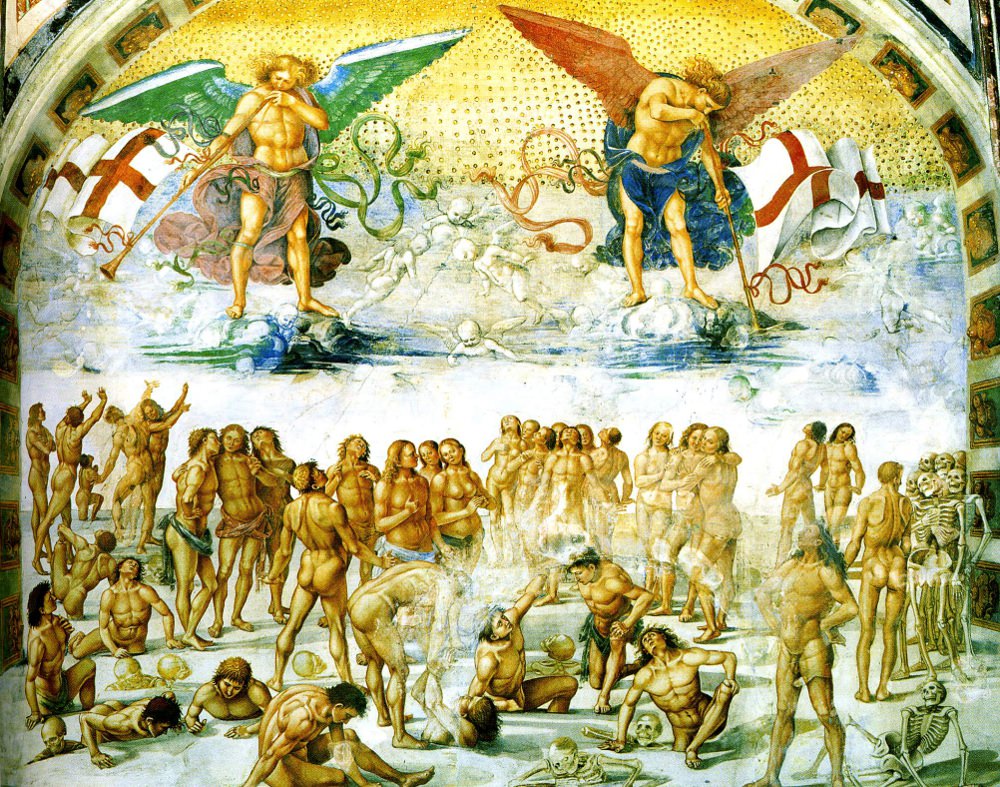 The Resurrection of the Flesh. Fresco, Chapel of San Brizio, Orvieto Cathedral 1499-1504 (s)
The deserving are resurrected, they recover their human form and are destined for paradise.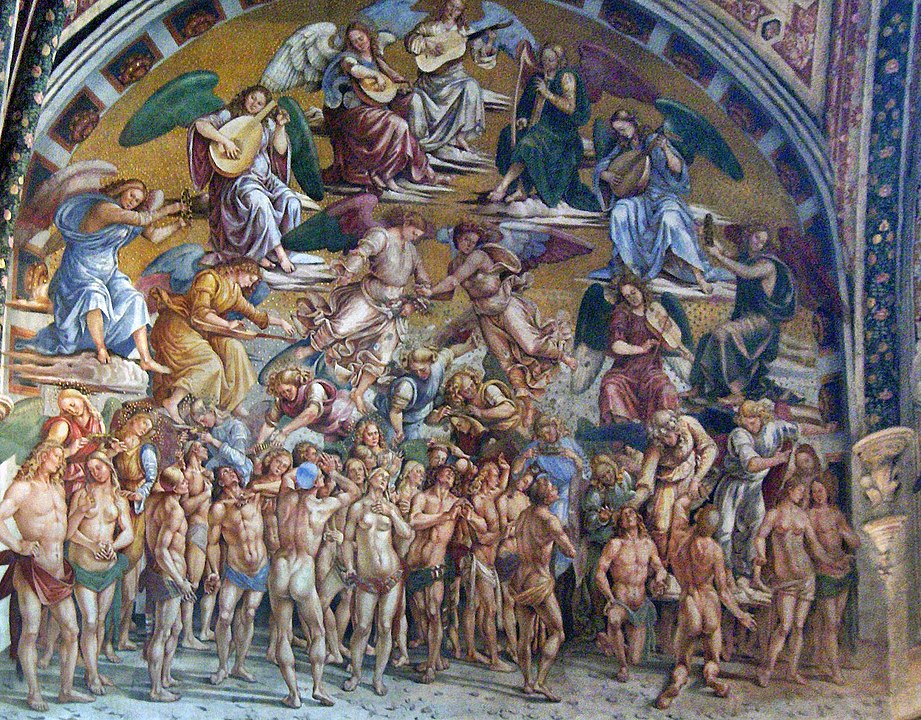 The Elect in Paradise. By Georges Jansoone (JoJan)
In his later years Signorelli returned to his birthplace, the town of Cortona where he died on October 16 1523, he was 82/83 years old and had continued to work on commissions well into old age.