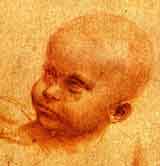 Child's Head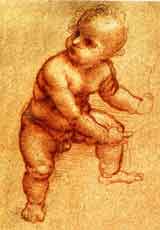 Study of a Child.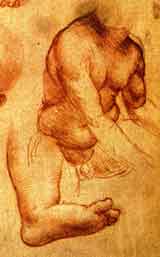 Child's Body.
The three sketches of children above are from a single sheet of drawings that Leonardo made for the Christ Child in the Virgin and Child painting opposite. Accademia Venice, red chalk.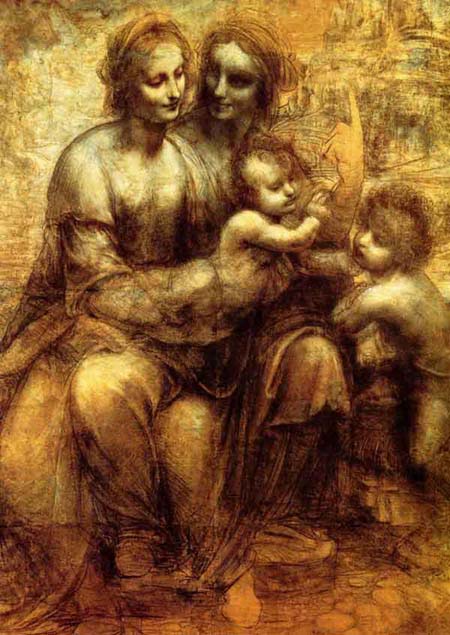 The Virgin and Child with St Anne and St John. c. 1508 Charcoal on brown paper, 139x101cm. National Gallery, London (s)
A cartoon by Leonardo (of the same subject) was so well received when it was displayed in Florence that it prompted the art historian Vasari to write,

 'men and women, young and old, continued for two days to crowd into the room where it was being shown, as if attending a solemn festival.'
There is some debate about which cartoon Vasari was describing and arguments continue about the possibility of more than one copy by Leonardo. Regardless of this debate both the drawing above and the painting in the Louvre, remain as fine examples of the artist's skill and craftsmanship.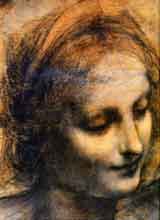 Head of the Virgin. (detail)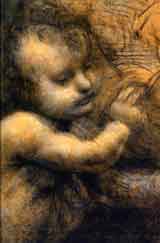 Christ Child. (detail)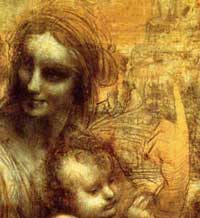 St Anne. (detail)