Virgin and Child with St Anne and a Lamb.
 Leonardo chose the subject of St Anne on his return to Florence from Milan in 1500. The work clearly shows the sfumato style pioneered by the artist and is based on an earlier drawing of The Virgin and Child with St Anne and St John (now in the National Gallery London.)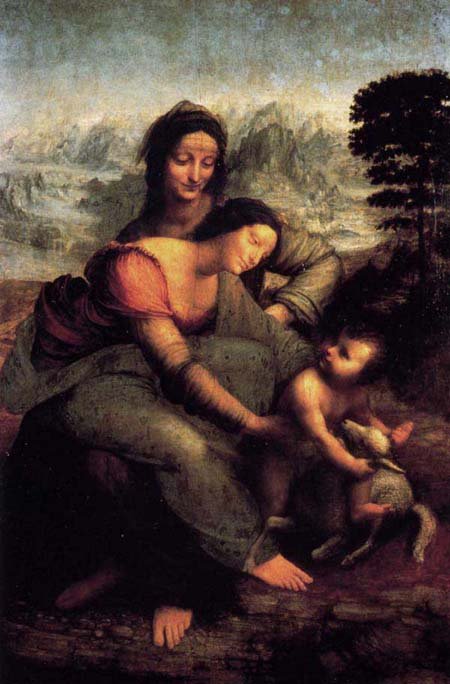 The Virgin and Child with St Anne and a Lamb
c. 1508, oil on wood panel,  166x112cm,  Louvre Paris. (s)
 The rocky landscape of the background is pure Leonardo and is reminiscent of the backdrop to the Mona Lisa and the Virgin of the rocks.
The subject of Mary and the Christ-child was a popular theme in many renaissance paintings. In this work Leonardo shows Mary reaching out to her son (Jesus) who in turn  reaches for the lamb. Mary is seated in the lap of her mother (St Anne) who watches over her daughter and grandson completing a trinity of generations within the same family. The composition is built on a clever combination of triangles formed by the posture of the Virgin, the hand-on-hip position of St Anne, and the intertwining child and lamb, superb!!