Leonardo da Vinci's Mona Lisa is undoubtedly the world's most recognised painting, it is also the most famous portrait in the world. Being the most famous does not imply that it is the best but certainly it is a masterpiece of outstanding quality. So much has been written about Leonardo's stunning portrait that the story of the painting has become mired in a mix of fact, speculation, and pure fantasy making it difficult for many to evaluate the work objectively.
We have become familiar with the image on postcards, advertisements, and copies in various forms, some are faithful reproductions, others are not. I have even seen a dog's head superimposed on the painting and the image is so well known that it is instantly recognisable, even after such distortions.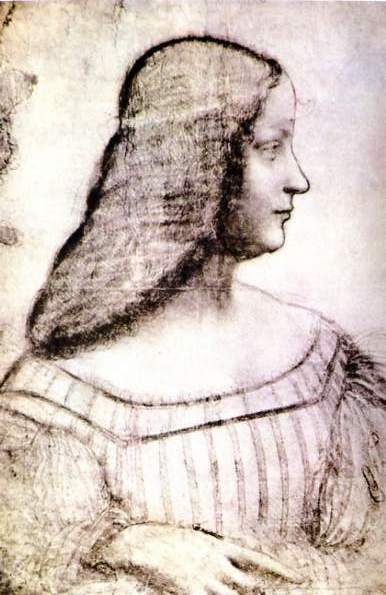 Isabelle d' Este (s)
The identity of the sitter has also been questioned although it is generally accepted that Lisa Gherardini, the wife of the Florentine silk merchant Francesco del Giocondo is the subject of the painting it is by no means certain that she was. It was the historian Giorgio Vasari who identified Francesco's wife as the sitter. However, Vasari was describing a painting that he had never seen, even so his description is the only written account that exists.
If Francesco did commission the work he never received it, Leonardo kept the painting making changes intermittently over several years. Other notable names include Isabelle d' Este the wife of Francesco II Gonzaga, Marquess of Mantua. Leonardo had completed a pastel drawing of Isabelle although she is drawn in profile her hands are in a similar position to those of Mona Lisa as is her torso, although reversed it does resemble that of Lisa.
Other possibilities are Costanza d'Avalos, Duchess of Francavilla, or the wife of Louis XII who was Leonardo's patron at the time.