Raffaelo (Raphael) son of the painter Giovanni Santi and his wife Magia Ciarla was born on the 28th March or the 6th April 1483. His father Giovanni Santi was a competent painter and was highly regarded in Urbino, a province that housed one of the most glittering courts in Italy.
Giovanni was an educated man of letters and was well aware of the contemporary artists of the day.
His preferences seem to have been  Mantegna, Leonardo, Signorelli, Giovanni Bellini and Pietro Perugino, but he was also impressed by the artists Jan van Eyck and Rogier van der Weyden from the Netherlands.
This provided the young Raffaelo with quite a privileged upbringing within the culture of the Umbrian court.
It seems that his life was destined to progress smoothly from childhood through to fame, considerable wealth, and adulation from his contemporaries and patrons. Not for Raphael the image of an artist working in squalor, begging for handouts for food and materials, he was blessed from the beginning!
However, Raphael's mother dies in 1491 when he is 8 years old. His father Giovanni dies three years later when he is still only eleven!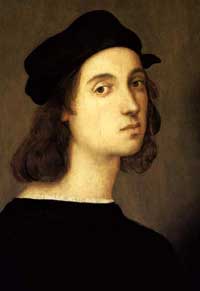 Self Portrait 1505/06. 
Oil on Panel. Ufizzi Florence. (s)
Before his death, Giovanni manages to place his son as an apprentice in the workshop of Pietro Perugino. Perugino was highly successful and his paintings realised high-profit margins for himself and for his Perugian dealers. Although Raphael very quickly freed himself from the painting style of his master, he followed Perugino's method of constructing paintings all of his life.
Perugino and his workshop had a firm grip on the market in Perugia, so in 1500 Raphael, now a master at the young age of seventeen, secured commissions in neighbouring Citta di Castello. It is here that he produces his earliest acknowledged work, a processional banner, now surviving in very poor condition. It would seem that Raphael secured a certain amount of financial independence at a tender age.
The Umbrian cities and courts provided a source of wealthy potential clients for the young artist. Raphael had started to produce quality work at a very early age and there is no doubt that he could have secured a lucrative career for himself within these circles.