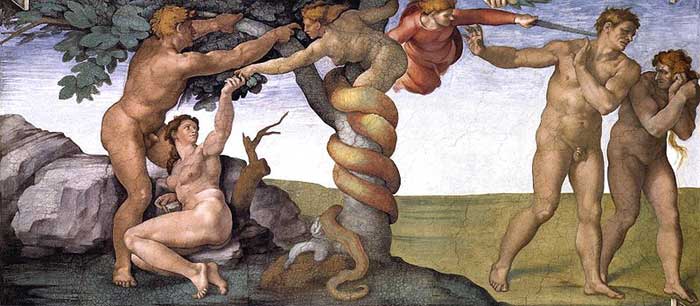 The Fall of Man and the Expulsion from Paradise (w)
There are two scenes that make up the narrative within this picture. The first scene shows the temptation of eve receiving the forbidden fruit from the serpent. At the same time, Adam reaches up and picks the fruit from the tree of Knowledge. In the second scene, Adam and Eve are shown as aged and ugly as they are banished from the Garden of Eden.
The Sistine Ceiling, The Story of Noah.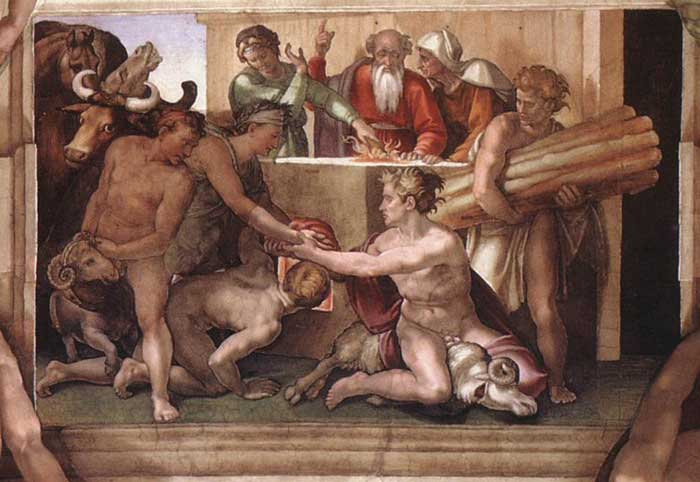 The Sacrifice of Noah (detail) (w)
Noah and his family make a sacrifice to God on their safe delivery from the great flood. 
The Deluge contains more than sixty figures, some cling to a listing boat in the middle ground. Survivors of the flood desperately seek refuge on the small pockets of land still available to them. One climbs a tree in a futile attempt to escape the rising waters, another carries the body of his drowned son in a failed rescue mission, all await the inevitable destruction that is sure to follow. In the background, the ark floats in calmer seas, a symbol of hope among the scenes of a frantic human tragedy.