The Sistine Ceiling, The story of Adam and Eve.
Here it is! Along with Leonardo's Mona Lisa, this has to be the most iconic image in art history.
The gesture of the fingertips, separated by a few centimetres, illustrate the moment before God invests the newly formed Adam with a soul. The imagination of the artist has produced, for all of Christianity, a universally recognised image of God, the white haired and bearded creator of man. 

The Creation of Eve (w)
This image shows the moment of Eve's creation. She is called forth from the sleeping Adam's ribs and gives thanks to a Merlin-like God who, with a gesture of his hand, produces the first ever female.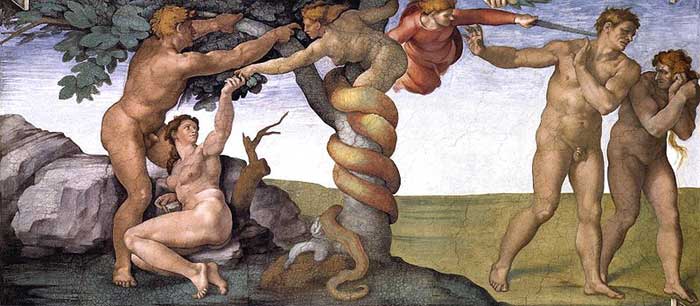 The Fall of Man and the Expulsion from Paradise (w)
There are two scenes that make up the narrative within this picture. The first scene shows the temptation of eve receiving the forbidden fruit from the serpent. At the same time, Adam reaches up and picks the fruit from the tree of Knowledge. In the second scene, Adam and Eve are shown as aged and ugly as they are banished from the Garden of Eden.