Da Vinci's scythed chariot was perhaps a throwback inspired by antique machines. Leonardo suggested raising the scythes when travelling through the ranks of men so that no one on your side will be injured!

Firearms in renaissance times were inaccurate and suffered from a slow rate of fire. Leonardo, in his design for a multi-barrelled cannon of 1481, sought to overcome the slow rate of fire.
The three racks of barrels allowed the re-loading of one rack while another was being fired and could maintain continuous firepower. The 'fan type' gun with its array of horizontal barrels allowed for a wide scattering of shot.
These breech loading, water-cooled guns were years ahead of their time and it's interesting to note that steam cannons were used in World War II.
Leonardo designed a huge crossbow,(his ballista), and it was truly huge (86 feet long). The weapon boasted a worm and gear mechanism to draw the bowstring and was mounted on canted wheels providing a stable base on the rough ground. Two alternate firing mechanisms allowed the bow to release by a hammer blow or by lever action.
He also made drawings for a repeating 'machine gun' operated by a man-powered treadmill.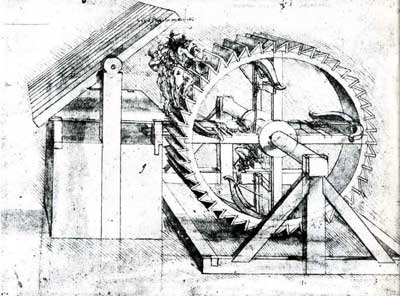 Tread-wheel 'machine-gun' (s)

Leonardo had also considered the possibility of an enemy using flying machines in battles, and designed weapons that would shoot them down!