The Da Vinci Drawings.
The Leonardo Da Vinci Drawings give us a valuable insight into the depth of knowledge experienced by the great artist.
We are fortunate that a vast body of Leonardo's drawings have survived these are scattered in various collections across the world. Leonardo dictated his last will and testament on his deathbed on 23 April 1519, he bequeathed all his manuscripts to his pupil Francesco Melzi.
The sheer abundance of drawings on subjects as varied as Anatomy, Weapons of war, Maps, and Botany all in addition to his many studies for paintings provide an insight into Leonardo's genius. Shown here is a snippet of Leonardo's drawings more examples of his weapons of war and his anatomical studies can be found in separate articles on this site.
From his anatomical studies (his curiosity led him to dissect and examine over thirty corpses) to his portraits and sketches of war machines, his drawings form part of the research which was the foundation of his art.
Study of Male Head and Architecture. (s) Sanguine and pen on paper. Windsor Royal Collection. 25.2 x 17.2cm.
Believed to be a study for the head of St James in the Last Supper.

For the head of St Anne in the Florentine Virgin and Child cartoon.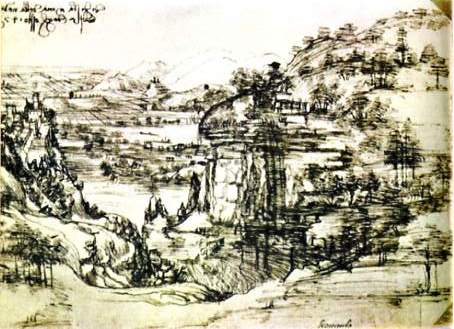 Landscape, pen on paper 19.5 x 28.5 cm (s) Uffizi Florence.
This is believed to be one of Leonardo's earliest works, it is inscribed in the upper left section.
"The day of the Holy Virgin of the snows 5th August 1473".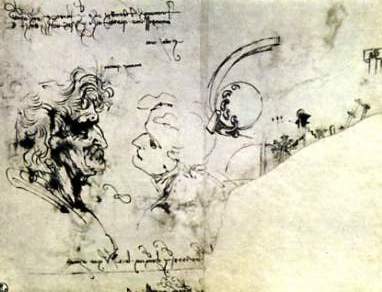 Profiles of Men and Ornaments. (s) Pen on Paper 21.1 x 26.7 cm. Uffizi Florence.
The drawing is inscribed;
1478" I began the 2 Virgin Marys"
Leonardo's interest in the natural world can be seen in his many botanical studies of plants. These drawings of plants-many of which he used in his paintings-illustrate Leonardo's attention to detail.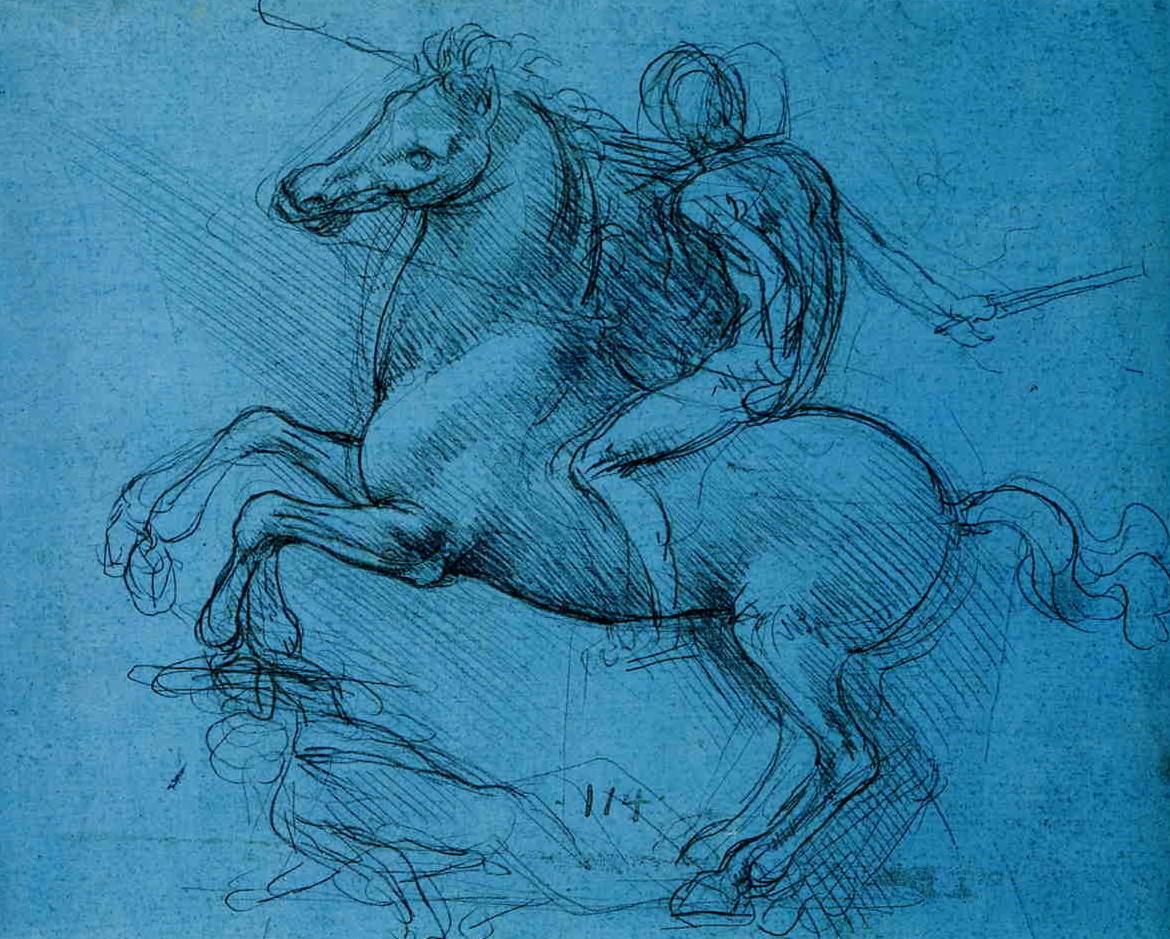 Horse and Rider, Study for the Sforza Monument, silverpoint on blue paper, c. 1488/9, Windsor Castle, Berkshire. (s)
Leonardo's fascination with fantastic mythical creatures is perfectly illustrated in these wonderful drawings of dragons.