Raphael Sanzio was born in 1483 in the province of Umbria and received provincial training in the workshop of Pietro Perugino.
 At the age of seventeen he proved himself to be one of the most promising of the younger painters but was still much influenced by Perugino's work. This can be seen in his early painting "Assumption and Coronation of the Virgin" and in "The Crucifixion" now in the National Gallery, London.
 Both of these paintings were completed when the artist was about twenty. This is a condensed account of the artist's life, to read the full version go to Raphael's Biography.

 Arriving in Florence the young artist soon realized the limitations of his apprenticeship in Umbria. He was faced with the daunting challenge presented by the work of Leonardo and Michelangelo and set out to study and learn from their paintings and sculptures.

 Raphael lacked the depth of knowledge of a Leonardo and could not match Michelangelo's power, he was a likable and even tempered artist, virtues that made him a favourite with potential patrons.
 His two great predecessors and rivals could both be difficult to get on with and proved to be unpredictable when carrying out their commissions, and so the young artist was able to compete despite the reputations of the two great masters.
At this time the artist was also influenced by the painter Fra Bortolommeo from Tuscany and the two remained on friendly terms, but the influence of Leonardo was apparent in "The Madonna of the Meadow" 1506.
Raphael arrived in Rome in 1508 and Pope Julius II soon found work for the young artist. He was asked to decorate the Pope's private library in a selection of rooms known as the Stanze. The paintings include "The School of Athens", "Disputation of the Sacrament" and "Parnassus", all housed in the signature room. These remain among the most famous images produced by the painter.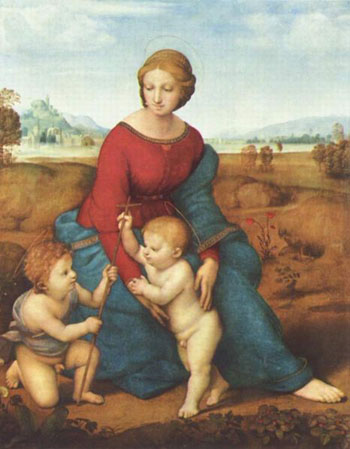 "The Madonna of the Meadow" (w)