The Healing of the Lame Man.
Raphael Cartoon and Tapestry.
The Healing of the Lame Man refers to Peters first miracle among the Jews. Raphael's composition shows Peter, centre-stage, grasping the arm of a lame man who he orders to rise and walk. The man is instantly cured and is able to walk again.
Next to Peter is the figure of John the Evangelist who looks on and is witness to this miracle. The columns of a Temple dissect the scene and on each side women, who have given birth to male children, come to purify themselves.
One or more of Raphael's assistants may have had a hand in the painting of the putti (these are purely decorative additions) but Raphael himself would have been responsible for painting the heads of the major figures. The receding columns of the Temple add depth to the work and the columns themselves have been carefully drawn.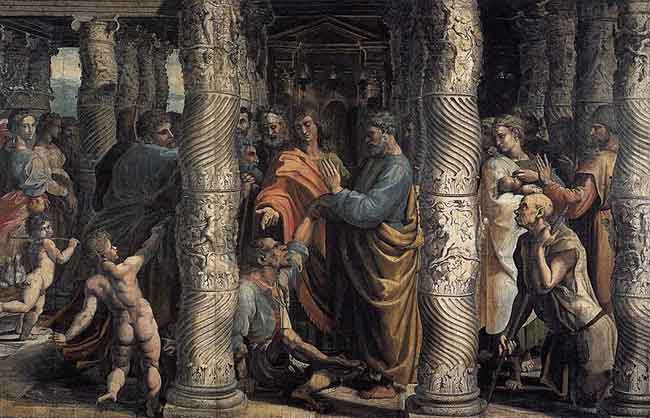 The Healing of the Lame Man, Cartoon. Royal Collection England (w)
The Healing of the Lame Man, tapestry
The tapestry is one of the seven displayed in the Sistine Chapel on St Stephen's Day in 1519. Several colour changes appear to have been made from the original cartoon most noticeably in Peter's cloak, this is red in the tapestry and yellow in the cartoon.
The tunic of the lame man has changed from the sky blue of the cartoon into a yellow garment with green highlights in the finished tapestry.