The Last Supper by Leonardo da Vinci is one of his two most famous works (the other is the Mona Lisa). It was commissioned to decorate the monks' dining room in the monastery of Santa delle Grazie.
 Leonardo had decided to experiment with various painting techniques and used both oil and tempera painting methods when completing this work.
 The painting of Christ and his apostles covers one wall of the refectory and appears to extend the size of the hall. The lifelike depiction of the figures is equalled by the attention to detail given to the dishes, and to the folds of the draperies.
 But Leonardo has presented the biblical story in a way that had never been seen before. Earlier versions of the same subject had shown Christ calmly dispensing the Sacrament with the apostles sitting quietly in a row, only Judas was segregated from the rest. In contrast Leonardo has given us a scene of drama, movement and excitement. Christ has just declared that one of the apostles will betray him, and the disciples recoil and gesticulate in disbelief at this shocking revelation.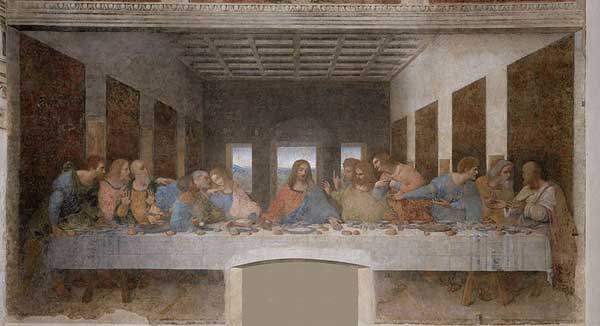 Leonardo da Vinci, The Last Supper. Milan (1498) (w)
The figures in the painting are; from left to right: Bartholomew, James the Less, Andrew, Judas, Peter, John, Christ, Thomas, James the Greater, Philip, Matthew, Thaddeus, Simon.