The rather pale-faced portrait of is not due to any idealised considerations by the artist but due to the sitter's rather sickly constitution .Leonardo has populated the middle ground with a large Juniper tree. The Juniper was a symbol of female faithfulness and virtue and it is used here to associate those attributes with the sitter. Even in this early work, da Vinci has included a landscape in the background of the picture, a practice he was to repeat in many of his subsequent paintings. The portrait is painted on the reverse side.
Laurel branches and palm leaves are interwoven with a garland displaying the message, Virtutem Forma Decorat: Beauty adorns Virtue. The message is very clear, Ginevra is expected to adhere to these high ideals of virtue and faithfulness, perhaps it's not so surprising that she looks so ill!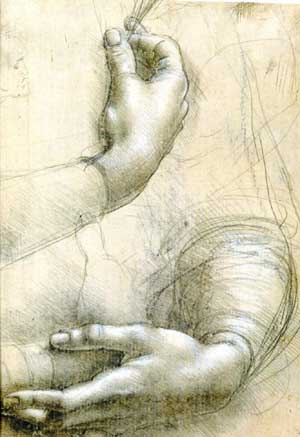 Study of Hands, 1474, 21.5x15cm. (s) Royal Collection, Windsor Castle.
This sketch of hands would fit well with the missing panel from the painting! What a fine silverpoint drawing by Da Vinci!