This exceptional exhibition ended on February 5 2012. It concentrated on the period in Leonardo's life spent in the service Ludovico il Moro Sforza, The Duke of Milan. Although the exhibition itself contained a mix of paintings and sketches by da Vinci and his followers, in this review I have focused mainly on Leonardo's works.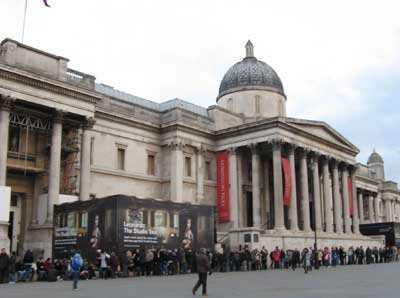 A small part of the queue outside of the Gallery. (p)

 The first striking thing about the da Vinci Exhibition was the difficulty in obtaining tickets! If you had not already pre-booked then a long queue from very early in the morning is the only way to ensure entry. Having seen the exhibition advertised in September 2011 I made the mistake of hesitating for a few days only to discover that all the advance tickets had sold out. Determined to see this once in a lifetime collection of works by Leonardo I had booked three nights in London with the prime intention of visiting this unique exhibition.
 My own experience began on Saturday 21st January arriving at the National Gallery at 7.55am, some two hours before the ticket office was due to open, it became clear that there was no chance of tickets on that day. The Gallery had an allocation of 500 tickets to sell per-day and an official had calculated by counting from the head of the exceptionally large queue that these would be gone and that there was little point in waisting time waiting for tickets that would not be available. The disappointment of the crowd was obvious but good humoured. It was not possible to buy tickets for the following day as they are only sold on a day-to-day basis, the only option was to return the next morning and try again.